The most beautiful eyeshadow palettes are often reserved for an exciting Friday night out but the current pandemic situation has limited our night outs. Moreover, masks have almost made the statement lips concept obsolete. Whether you are working from home or face-timing your date, applying some bright colors to your eyelids will instantly lighten up your mood.
The most commonly used eyeshadow palettes have either bright colors that will add vibrance to your life or nude pastel shades to highlight your eyes a bit. We have listed the top 5 popular eyeshadow palettes having shimmery or matte shades that are highly pigmented.
Urban Decay Naked Heat Eyeshadow Palette – Best Warm-Toned
Your eyeshadow collection is incomplete without the Urban Decay Naked Palette. It launched a decade ago but it has been constantly incorporating new variations and themes. If you love warm shades on your eyelids, this palette is your best bet.
From deep terra cotta to pale peach, this palette has a dozen of warm colors. It has a mix of metallic, matte, and shimmer finishes to allow you to create multiple eye looks.
Each shade is blendable and buttery that will glide onto your eyelids effortlessly. The vibrant colors, high pigmentation, and long-lasting shades make this palette a must-have for all.
NYX Professional Makeup Ultimate Utopia Shadow Palette – Best Drugstore
This palette from NYX is undoubtedly the best drugstore option available in the market. With an impressive range of 40 shades with different finishes, this is one of the most used palettes.
Whatever eye look you want to opt for, this palette will suit all your needs.
NARS Voyageur Eyeshadow Palette – Best Shimmer
The versatile palette comes with six different shades that will suit women of varying skin tones. They look equally flattering on all skin tones and can enable you to achieve different eye looks in just a few strokes.
The palette has neutral and shimmer shades that are perfect for everyday wear. Whether it's a casual event or a special occasion this palette will never fail you.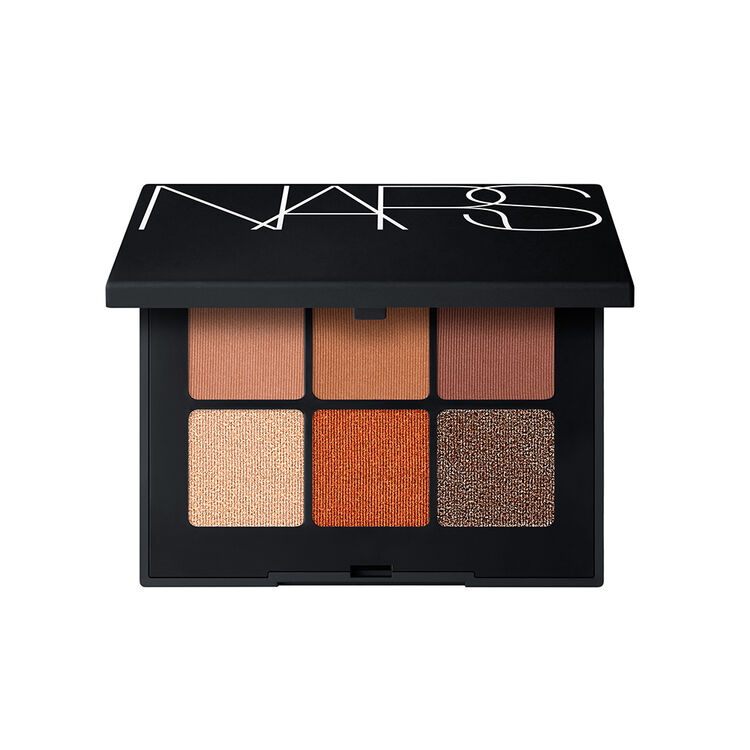 Ace Beaute Slice of Paradise Palette – Best Bright Shades
If you love bright, bold colors on your eyelids, opt for this rainbow-inspired eyeshadow palette. From tangerine orange to kelly green, this eyeshadow offers 12 beautifully pigmented fun colors.
Huda Beauty The New Nude Eyeshadow Palette – Best Nude
Nude eyeshadows are ideal for zoom meetings, brunch dates, and other events. It comes with an array of nude shades and finishes that will work with both your night and day makeup look.
You will find 10 creamy matte shades that are loaded with coconut oil and aloe to offer a buttery finish. There are 4 reflective shades with a chromatic finish and 2 glitter shades with silicones. Additionally, it comes with a concealer shade that can be applied underneath other colors to make it more pigmented.
Investing in a good eyeshadow is one of the best things to do if you love applying makeup. Select your favorite pick from our list of the 5 most used and beautiful eyeshadow palettes. From neutral tones to bright shades, these palettes have everything you need to achieve that glamorous look.