As soon as you enter a store selling clothing, you are lured to a stunning dress. You eagerly run to put it on, but as you look in the mirror, something doesn't look right. Your complexion doesn't appear to go well with the hue, and the excitement wanes. It's important to emphasize your inherent attractiveness and feel confident in every outfit you wear, which means choosing the perfect colors for your apparel goes beyond personal choice. This thorough guide will explain how to choose colors that complement your face and skin tone, giving you the knowledge you need to pick the right clothes for your wardrobe. You can discover the trick to dressing in hues that make you appear good with a keen eye and some understanding.
Discover Your Skin Tone
Identifying your skin tone is the first step in picking the ideal colors for your wardrobe. The basis for choosing colors that complement your natural complexion is laid by knowing the undertones of your skin.
Warm undertones can cause your complexion to appear golden, peachy, or yellowish. You might have greenish veins on your wrist, and gold jewelry often looks better on you than silver. The majority of people with olive, tan, or brown complexion tones have warm undertones.
Check your wrist veins for signs of a neutral undertone; if they are difficult to discern or appear blue-green, you may have one. If both gold and silver jewelry complements your skin tone well, your undertone may be neutral. Try dressing in both warm and cool hues; if neither overpowers your complexion, you probably have a neutral undertone.
Look at the veins in your wrist; if they tend to be more blue or purple, you probably have a cool undertone. Consider how silver jewelry looks on your skin; if it brightens it, your undertone may be chilly. Try cool-toned hues like purple, blue, and jewel tones; if they make your complexion look lively, your undertone is probably cool.
The Power of Warm Colors for Warm Undertone
If you have warm undertones, you radiate warmth and vigor like the sun. Accept hues that highlight your shine and go well with your golden complexion.
Shades of Red – Deep, warm reds like tomato, brick, and rust can highlight the warmth in your skin tone and give you a more sartorial appearance.
Earthy Tones –  Earthy hues like burnt orange, mustard yellow, and olive green enhance warm undertones and establish a harmonious contrast between your skin tone and your clothes.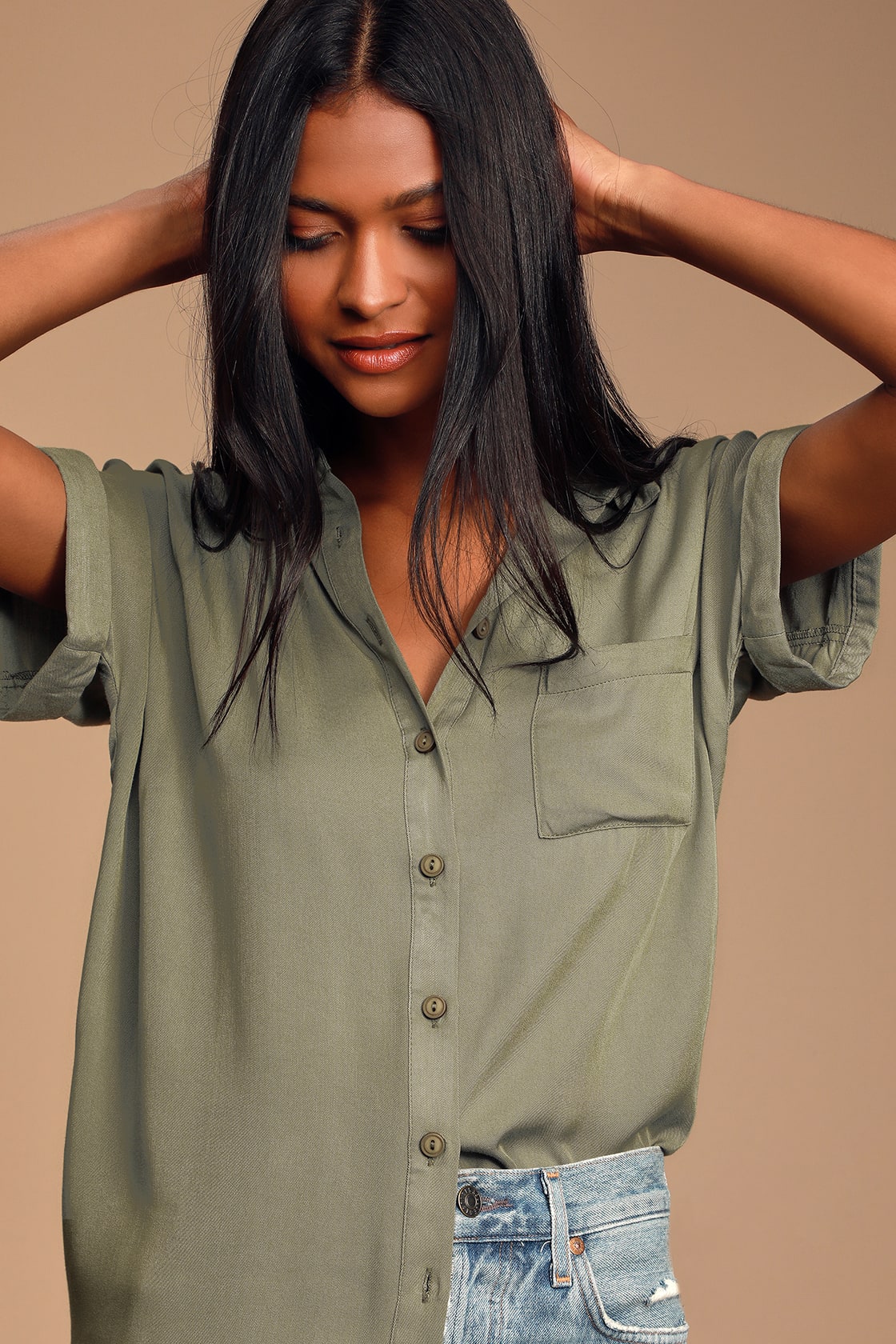 Blythe Olive Green Short Sleeve Button-Up Top
Golden hues – For a radiant and sunny appearance, choose hues with golden undertones, such as goldenrod or buttery yellows.
Warm Neutrals – Choose warm neutrals like camel, beige, and taupe since they easily accentuate your natural skin tone.
Embracing Cool Colors for Cool Undertones
The realm of cool colors is your playground if you have cool undertones; it is full of soothing and relaxing tones that draw attention to your rose skin.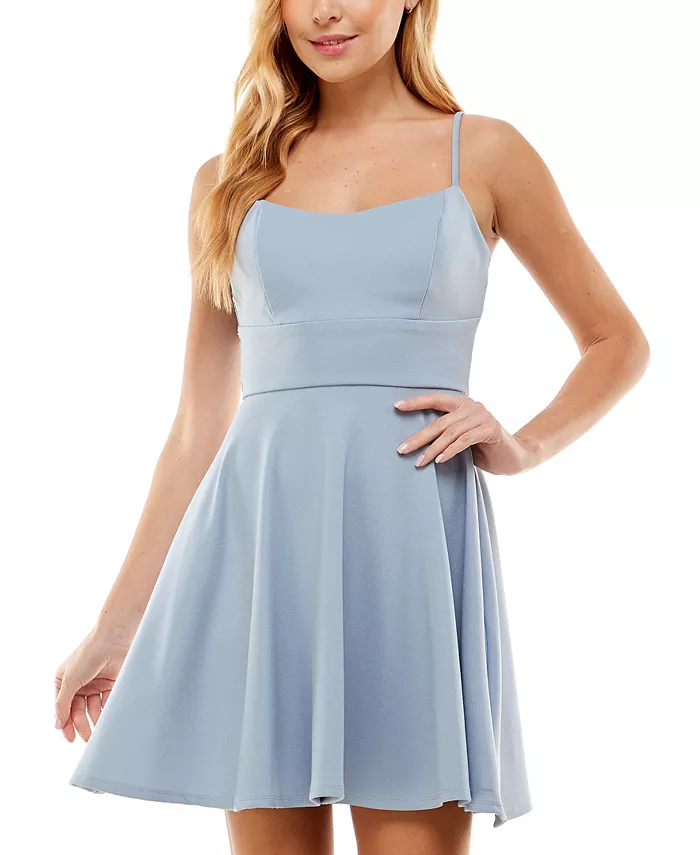 Cool Blues – For a light and elegant appearance, indulge in cool blue hues like sky blue, cerulean, and periwinkle.
Pretty Purples – Lavender, lilac, and deep purples can enhance your entire appearance by striking a harmonious contrast with chilly undertones.
CITY STUDIOS
Juniors' Lace-Back Fit & Flare Dress
Fresh Greens – Cool greens can highlight the freshness of your complexion and provide a calming element to your clothing. Examples are mint green and seafoam.
Classic Pinks – Pink hues effortlessly complement cool undertones, complementing your natural shine. They range from gentle blush to fuchsia.
The Versatility of Neutral Colors for All Skin Tones
Regardless of your skin tone, neutral colors serve as a blank canvas for every ensemble, producing a balanced and classic style.
Timeless Black – The color black is the definition of refinement. It looks good on everyone and gives any ensemble a touch of class.
Navy Blue – Navy is a flexible alternative to black that gives your wardrobe options depth and richness.
Gray offers a variety of alternatives to fit any occasion, from light heather to charcoal.
Crisp White – A timeless option that brightens your skin tone and radiates purity and freshness.
Complementary Colors – Finding the Perfect Balance
On the color wheel, complementary hues are situated opposite one another and, when combined, produce a visually arresting contrast. You may create a strong fashion statement by wearing complementary colors in your clothing.
Consider mixing warm hues like coral or peach with cool blues or greens if your home has warm undertones. Warmth and coolness contrast to provide a visually interesting and eye-catching ensemble.
Warm and Cold Color Schemes –  People with cold undertones might experiment with complementary color schemes, such as a deep purple blouse with bright yellow accessories. Your ensemble gains depth and interest when cold and warm tones are balanced.
Patterns and Prints – Finding Harmony
The appropriate patterns and prints may give your clothes originality and flair, but picking the right ones to complement your skin tone is essential.
Warm Undertones – To accentuate your skin's golden shine, choose designs with warm hues, such as warm-toned florals or earthy paisley prints.
Patterns with cool undertones, like frosty blues or gentle pinks, can draw attention to your cool skin tone and give your appearance a touch of elegance.
MAGIC MELODY PLEATED DRESS IN BLUSH
Warm and cold tones can be combined, and neutral undertones provide you the flexibility to successfully wear a variety of color schemes.
Consider Your Hair Color and Eye Color
The ideal colors for your apparel also depend on your hair color and eye color. Although skin tone is the main consideration, taking these extra aspects into mind might help you narrow down your color selections.
Hair Color – The way certain colors interact with your skin depends on whether you have blonde, brunette, red, or black hair. For instance, brunettes may find jewel-toned blues and greens very attractive, while redheads frequently look magnificent in emerald greens and warm earth tones.
Colors may seem different on you depending on the color of your eyes. Brown eyes can stand out stunningly against turquoise or teal, whereas green eyes may stand out when worn with purple apparel.
Try Before You Buy – Testing Colors
Try on new clothing before deciding on a certain hue to see how it looks with your face and skin tone. Step outside and observe how the color affects your complexion in the daylight. It's important to check how colors and different tones seem in various situations because different lighting conditions can affect this.
The art of selecting colors that flatter your face and skin tone gives you the power to emphasize your natural beauty and feel good about the way you look. Your ability to choose clothes that enhances your own features depends on your ability to recognize your skin tone and comprehend warm, cold, and neutral hues. Your ensembles become more dynamic and balanced thanks to the power of complementary colors and patterns, elevating your sense of style to a whole new level.
Remember that your sense of style is a reflection of your unique personality and that the appropriate color choices can boost your self-assurance and general presence. You now have the knowledge and skills necessary to successfully navigate the world of colors, enabling each outfit to accurately express your natural beauty and sense of style. So, go into your closet with confidence and put together an outfit that showcases the inner beauty you possess.