The smallest touches frequently have the biggest influence in the realm of fashion. A simple dress can become outstanding with the help of some well-chosen accessories. Modern and entertaining fashion accessories may easily boost your everyday outfits and give them a new and vivid atmosphere, whether you're going out for a casual coffee date or getting ready for a busy day at work. Prepare to learn the art of accessorizing and how these modest changes may transform your sense of style.
Statement Earrings: Commanding Attention with Elegance
Statement earrings are the ultimate modern accessories that can completely change the way you look. Even the most basic outfit may become a striking fashion statement thanks to these eye-catching accessories. Statement earrings draw attention to your face and add drama to your outfit, whether you go for large hoops, geometric forms, or ornate chandelier designs. When worn with a pair of stunning statement earrings, a simple white t-shirt, and jeans take on a completely other personality.
Layered Necklaces: Effortless Bohemian Charm
Bohemian Layered Necklace Gold
Layered necklaces make it simpler than ever to convey a bohemian aesthetic. Adding several length and style necklaces to your outfit gives it depth and texture. Everything from V-neck tees to flowing dresses looks great with this trend. Whether you choose delicate chains with tiny pendants or mix-and-match chunkier pieces, layered necklaces give your outfit a casual elegance that instantly injects you with a dash of cool.
Bold Belts: Cinching in Style
St. John Gold Oversized Ring Chain Belt
A well-selected belt can dramatically improve your silhouette and look as a whole. A statement belt provides a flash of color, texture, or even a hint of sparkle while also defining your waist. With the help of a striking belt, you may add structure to a flowy dress or add some individuality to a straightforward top and skirt combo. Belts are a must-have item in any accessory collection because of how versatile they are, allowing you to experiment with proportions and draw attention to other parts of your outfit.
Playful Scarves: Colorful Elegance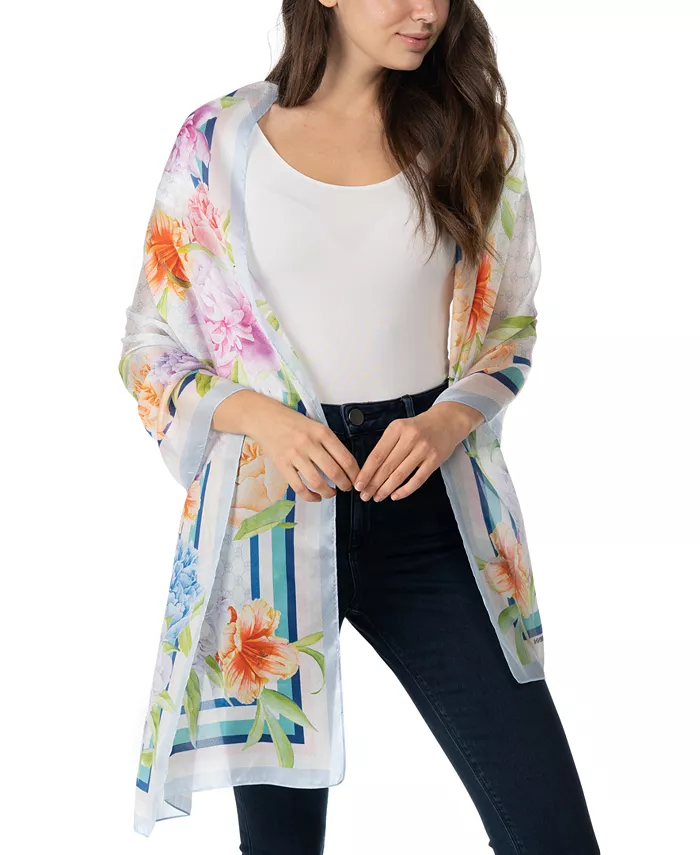 GB Floral Logo Scarf, Created for Macy's
One of the most adaptable accessories, scarves may completely change the way you look. A vivid scarf with a design may transform a monochrome outfit into a celebration of color, fashion, and creativity. It can be worn as a standard neck scarf, wrapped around your ponytail, or, for a unique twist, even as a belt. Scarves add a touch of sophistication and obvious appeal to your attire, whether you choose silk, cotton, or a comfortable knit, you`re assured of well put-together outfit.
Trendy Sunglasses: Effortless Cool
Sunglasses not only shield your eyes from the sun's rays, but they also have a classic coolness about them. The correct pair of sunglasses may quickly improve your look and infuse it with mystery. With anything from traditional aviators to gigantic cat-eye frames, sunglasses provide you the chance to express your individual style while protecting your eyes from the sun. Put on some current eyewear, and all of a sudden your outfit is easily stylish.
Stylish Hats: Head-Turning Flair
Hats are a style item that has the ability to completely alter the atmosphere of an outfit. A well-chosen hat may give a sense of sophistication, fun, or even a touch of vintage charm, from fedoras to wide-brim summer hats. It's amazing how a hat can change your appearance in an instant, taking it from casual to professional or from subtle to striking. Think of a chic hat as the finishing detail that unifies your overall look.
Unique Handbags: The Ultimate Statement Piece
Koa Leather Push-Lock Top Handle Bag – Pink
The ambiance of your outfit can really be defined by the purse you choose. A bright clutch may inject a burst of vitality into your outfit, while a bold, structured purse can take a plain outfit to new levels of chicness. The trick is to pick a handbag that not only goes well with the color scheme of your clothing but also adds a little flair. Your handbag becomes the ultimate statement piece that reflects your unique sense of style, whether you choose crazy patterns or sleek leather designs.
Quirky Socks: Unexpected Delight
Never undervalue the ability of unusual socks to bring a sense of surprise to your outfit. Fun socks can be your secret weapon for expressing your personal style, whether they have cute designs, vibrant hues, or entertaining patterns. Give them an unexpected twist by letting them protrude from your shoes, ankle boots, or even a pair of tailored slacks. This will highlight your personality and ingenuity.
FULL TILT 3 Pack Psychedelic Womens Socks
Elegant Watches: Timeless Sophistication
Roman Numeral Dial Bracelet Watch Set
Watches are status markers for refinement and flair in addition to being useful accessories. Your regular outfits can become a little more refined with the addition of an edgy watch. Whether you choose a minimalist watch, a classic leather band, or a bold metal watch, this accessory not only tells the time for you but also conveys your attention to detail and sense of style.
Personalized Jewelry: Meaningful Touches
Blooming Birth Flower Name Necklace with Diamond in 18K Gold Plating
Jewelry is an excellent way to personalize your style and give it a distinctively you feel. Whether it's a ring with a birthstone, a bracelet with a special charm, or a necklace with your initials, personalized jewelry adds sentiment to your look and tells a story. These items frequently spark conversation and give you a subtly powerful way to exhibit your uniqueness.
Your everyday clothing can be dramatically changed by adding trendy and enjoyable accessories. Each item has the ability to alter the vibe of your outfit, whether you choose statement earrings, layered necklaces, dramatic belts, fun scarves, trendy sunglasses, beautiful hats, distinctive handbags, eccentric socks, gorgeous watches, or personalized jewelry. You may effortlessly elevate your look and appreciate the beauty of fashion's small elements by carefully choosing and artistically combining these items. Explore the world of accessories to find new ways to express your creativity and personality via your daily clothing choices.