When it comes to fashion, comfort, and style should go hand in hand. The rise of trendy relaxed printed fits has brought forth a revolution in fashion that effortlessly blends ease and elegance. These relaxed ensembles allow you to express your unique style while feeling comfortable and confident. Whether you're headed for a casual hangout, a leisurely stroll, or simply want to exude a sense of laid-back sophistication, relaxed printed fits offer a versatile canvas for creating chic looks that captivate attention. In this guide, you'll discover the essence of this trend and learn how to embrace it to craft your own comfortably chic outfits that reflect your personal style.
Embracing Relaxed Printed Fits: The Fusion of Style and Comfort
MULTI ABSTRACT PRINT CUT-OUT OVERLAY LACE TRIM BODYCON DRESS
The appeal of casual patterned fits lies in their capacity to eminently combine fashion and comfort. These ensembles create a harmonious union that works well for a variety of events by fusing flowing forms with eye-catching designs. These items, which prioritize both your aesthetic and your comfort, embrace the essence of contemporary design by embracing flowy skirts, roomy jumpsuits, and loose-fitting blouses.
Prioritize Comfort with the Right Fit and Fabric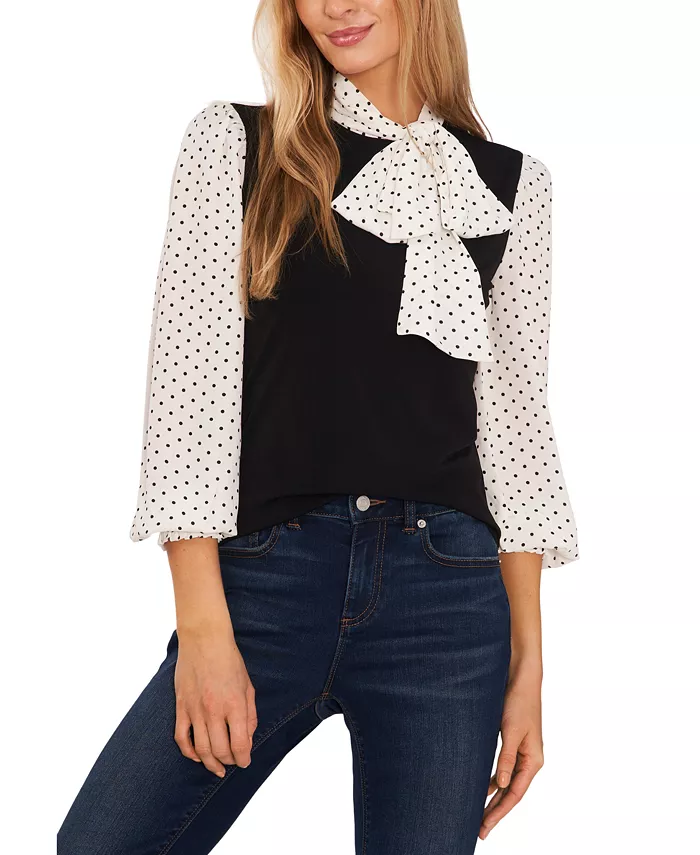 Women's Mixed-Media Long Sleeve Bow Neck Knit Top
Prioritizing comfort without compromising elegance is important to nail the trend of relaxed patterned fits. Look for clothing with a loose, relaxed fit that will allow you to move about easily. Your outfit will feel as beautiful as it looks by using materials like breathable linen, light cotton, and soft jersey.
Play with Proportions for Visual Interest
When styling loose-printed suits, understanding proportions is crucial. Think about combining various proportions to produce a harmonious and appealing appearance. Consider wearing more tight bottoms, such as slim jeans or leggings, with a loose-fitting top. On the other hand, to create a sense of balance, wear a more fitted top with wide-leg slacks or a flowy skirt.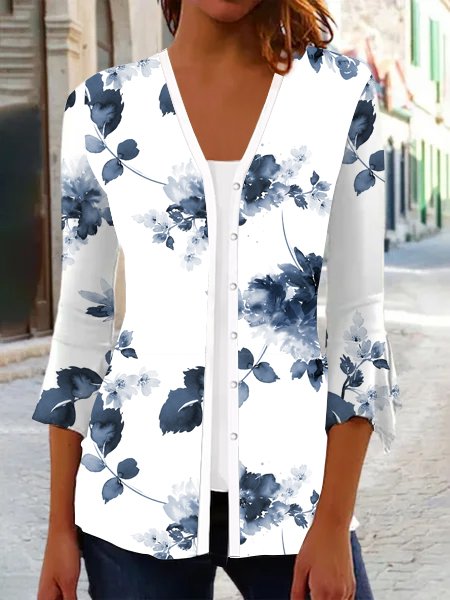 Buckle Shirt Collar Casual Floral Kimono
Embrace the Vibrancy of Prints
The heart and soul of casual printed fits are the prints. They give your outfit more depth, charisma, and character. There is a print to fit every mood and occasion, from florals and stripes to abstract patterns and boho motifs. Choose prints that fit your personal style and give you a sense of assurance and vitality.
Navy & Orange Geometric Satin Pussybow Blouse
Versatility in Styling: The Relaxed Top
Relaxed patterned tops are very adaptable clothing items that may be dressed up or down. High-waisted jeans and an oversized printed top make for a fashionable outfit that balances structure and volume. Put a flowing printed top inside a pair of laidback shorts for a relaxed look. Your top will look more sophisticated and interesting if you layer a kimono or thin cardigan over it.
The Appeal of Printed Dresses
With little effort, printed dresses effortlessly improve your fashion. Whether it's a flirty sundress or a flowing maxi dress, the print gives your look a little extra personality. Make the print stand out and showcase your distinct style by adding simple accessories like hoop earrings or delicate necklaces to the outfit.
Relaxed Jumpsuits: A Complete Ensemble
Umy Tukki Noir Print Convertible Jumpsuit
Relaxed printed jumpsuits provide a complete ensemble that is both fashionable and cozy. To avoid appearing shapeless, look for jumpsuits with distinct waistlines or tie belts. A printed jumpsuit is an easy option that oozes modern elegance when worn with shoes or mules and minimal jewelry.
The right footwear is also essential to complete your casually stylish outfit. Consider selecting footwear that strikes the proper balance between comfort and style based on the situation and your own preferences. Shoes like sandals, sneakers, espadrilles, and ankle boots are adaptable choices that can improve the look of your ensemble.
The key to accessorizing loose-fitting printed clothing is balance. Select simple accessories that will complement your look without taking away from it. Simple bracelets, stud earrings, and delicate necklaces all give a sense of delicacy. The idea is to keep the focus on your loose fit and print while adding the ideal amount of extra flair.
The skill of wearing casual patterned fits requires a careful balancing act between comfort and style. Put comfort first by wearing clothing that fits well and is made of attractive materials. Explore several styling possibilities for tops, skirts, and jumpsuits, and embrace colorful prints that fit your personality. Layering gives your outfit depth and texture, and your footwear of choice and simple accessories finish the appearance. Ultimately, your sense of self-assurance and your distinctive smile are what take your casually stylish ensemble to a whole new level, making you a true trendsetter everywhere you go.