Winter weddings have a unique charm that sets them apart from their warmer-weather counterparts. Snow-covered landscapes, cozy venues, and a touch of frosty magic in the air make them a truly unforgettable experience. However, attending a winter wedding as a guest requires careful consideration of your outfit. You want to look stylish, stay warm, and, most importantly, not upstage the bride. In this guide, we've curated a list of five showstopping winter wedding guest dresses that strike the perfect balance between elegance and winter appropriateness. We've got you covered whether you're heading to a snowy mountain wedding or a romantic countryside celebration.
#1: Rixo Lucile Dress
Are you ready to make a grand entrance at your winter wedding? Planning your guest outfit out in advance can bring extra joy and ease stress ahead of the big day. Why not consider the Rixo Lucile dress? A classic silhouette is refined with a slimmed skirt, bias cut, and cuffed sleeves for a slinky yet flattering fit. The luxurious velvet fabric and glitter print add a touch of glamour, and the thin straps in the back are stylish and comfortable. Final touches, such as the Carolyn neckline, provide a wonderful finishing touch, giving it a royal look worthy of a winter wonderland princess. Make sure to take a look at the Rixo Lucile to style your looks for the wedding!
#2: Posse Lennie Midi Dress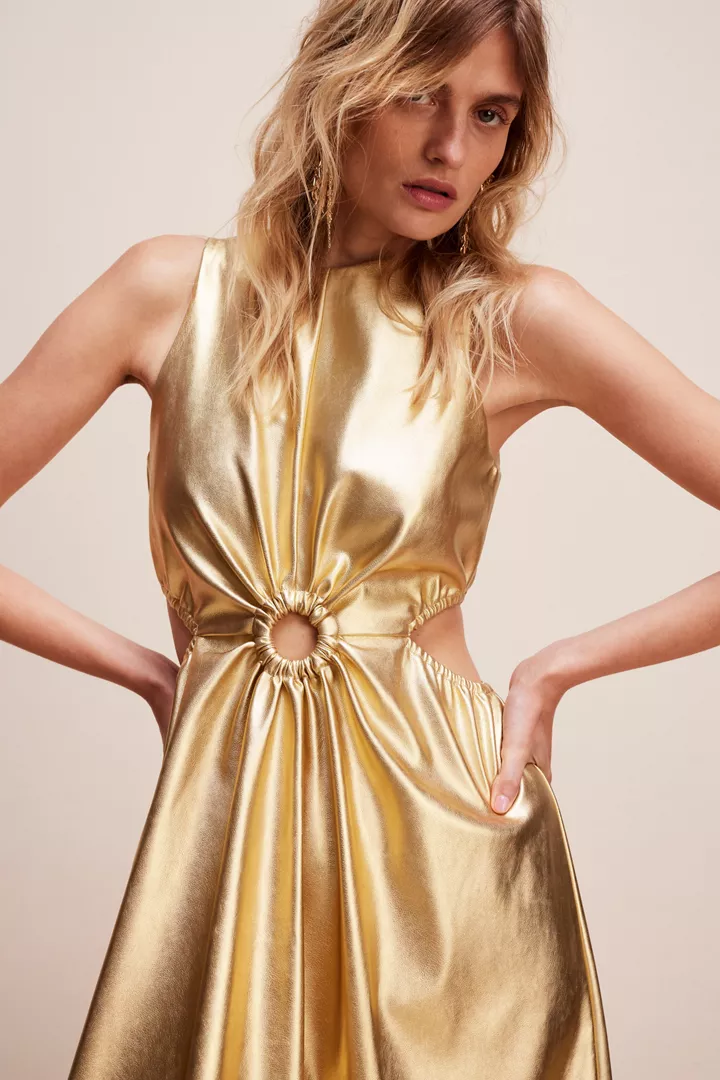 The Posse Lennie Midi Dress packs serious style with its midi length and sophisticated finish. It is the perfect outfit with all the modern touches you could want for a winter wedding guest. Headed to a cold-weather wedding? The sleeveless silhouette, O-ring detailing at the front, and eye-catching side cutouts will have you arriving in style. Elevate your look with chunky heeled shoes and bold accessories to create an unforgettable statement. With the Posse Lennie Midi Dress in your wardrobe, enhancements, and loud elements put together, you'll slay the guest list. But delay not; this remarkable garment won't be around forever. Show up to an event like never before, and get the Posse Lennie Midi Dress now!
#3: Valentino Duchesse Satin Minidress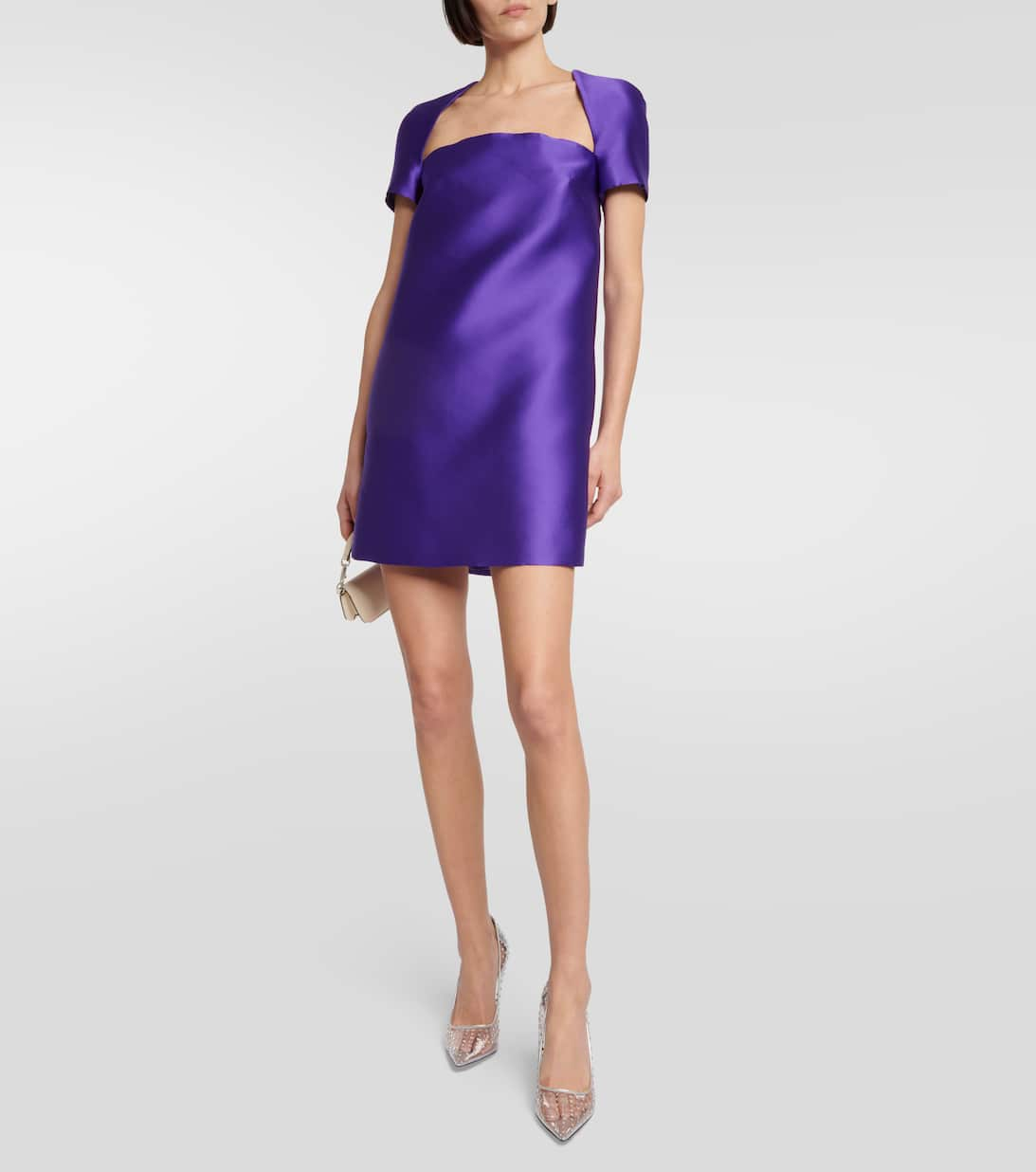 When it comes to making a statement, Valentino knows how to deliver. The iconic Italian fashion house is famed for its illustrious designs, and the Duchesse Satin Minidress is a perfect example of what the label is known for. With a stunning silhouette showcasing label-signature details, this sublime piece adds a hint of drama with bolero cap-style sleeves, offering an elegant and memorable look. Expertly crafted with luxe Duchesse satin, detailed with a secure hook fastening and a zipped back, as well as a soft 100% silk lining, you can expect nothing but the highest level of comfort and sophistication. Make an entrance at elegant black-tie events and sophisticated cocktail soirees, and feel like royalty in this designer mini dress. To ensure it looks just like new, always get it dry-cleaned.
#4: Norma Kamali Diana To The Knee Dress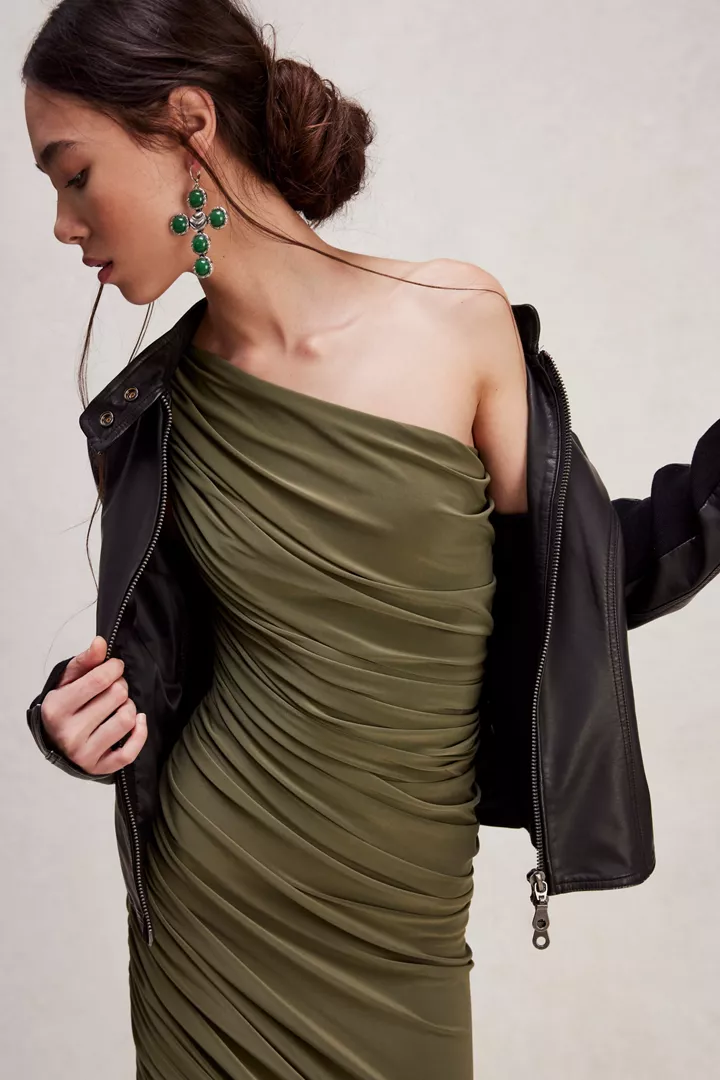 Every fashionista understands the transcendent appeal of a trusty little black dress. The Norma Kamali Diana To The Knee Dress is a timeless yet edgy way to elevate any ensemble. Its slim bodycon fit solvently hugs the curves of any figure, while subtle ruching adorns the dress for an added layer of femininity. This slimming style also accentuates the drama of a one-shoulder neckline for an extra special touch. You can rely on its effortless pull-on style for any evening soiree or special occasion. Slip into this number for your weekly date night or a night on the town, and you definitely will not go unnoticed. Go ahead and add one to your wardrobe, and you'll be sure to turn heads and amp up your style game!
#5: Sleeper Feathered Boheme Midi Slip Dress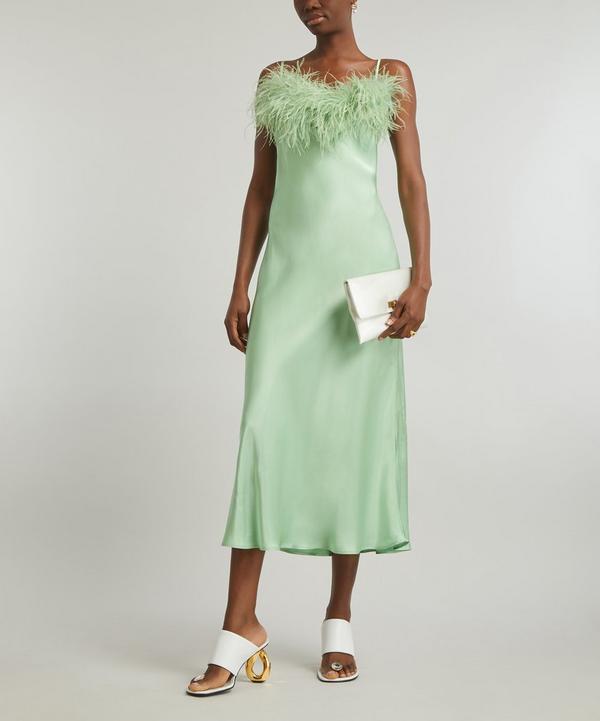 Last but certainly not least, we have the Sleeper Feathered Boheme Midi Slip Dress. Not your average fashion staple, this unique and whimsical number is one of a kind. Constructed from 100% EcoVero rayon, the special features of this style are the feather Trim adorning the bodice and the glamorous scene it sets. Its slender fit and delicate spaghetti straps let off that sweeping silhouette that advances your look for a night of pure grandeur or dials it back for casual outings. Parties, anniversaries, date nights, or even relaxed Weekend brunches will reimagine their character and vibrancy when you choose this dress to adorn yourself. This beautiful addition to your wardrobe is sure to call the right kind of attention as you turn heads like a movie star!
Closing Thoughts
After exploring some of the best wedding guest dress options out there, it's clear that there are endless possibilities for finding a stunning and unique look. Whether you opt for a classic silhouette or a bold and playful style, the key is to choose something that makes you feel confident and beautiful. With these top picks, you'll be sure to turn heads at any wedding event you attend. So go ahead and find your perfect match – your wardrobe (and Instagram feed) will thank you!