Crop tops have been a cool and chic girl's iconic clothing choice, which is why whether it's the early 2000s or 2022, it's still a popular choice for a stylish outfit. Crop tops are often associated with a more relaxed style which is why many women love wearing them.
However, wearing crop tops in a professional setting may be inappropriate. Don't worry though! Here are 5 cute ways how you can sneak in a crop top without looking unprofessional:
Be Inconspicuously Beautiful with Plain or Matching Tops
Raglan-Sleeve Cropped Tee                             Linen Wide-Leg Pants
Incorporate a one-colored plain crop top with neutral-colored wide-leg pants. The lack of print on your top makes it more minimalist and the laidback wide-leg bottoms make it business-appropriate.
An easy way to wear crop tops at work is to match them with a pair of wide-leg pants. Most of the time, whether it's with men or women, neutrals like black, gray, white, beige, and brown are the most popular. Colored matching outfits make you stand out, and look absolutely fashionable.
You can wear complementary accessories such as silver or gold jewelry, and a structured clutch to make the outfit chic.
Halter-Style with a Striking Blazer
Halter neck cropped tops are some of the easiest to style and layer on. During the day, you can wear a plain crop top, and layer with a structured blazer for a strikingly stunning look. You can complete the look with plain wide-leg pants, and accessorize with a pair of cat eye sunglasses, and a silver watch.
Then, during the night, whether you're going out with friends or chillin' at a friend's apartment for dinner, you can remove the blazer for a more laidback style.
Tie Neck Cutout Crop Top Nobody But You Textured Miniskirt
If your work environment isn't too restricting with your outfits, you can go for something a bit more modern and stylish such as pairing a tie-neck cutout crop top with a mini A-line skirt. It's a preppy way to dress up, especially if you have a creative workspace.
You can accessorize it by wearing a pair of silver or black pumps or stilettos, a matching crossbody mini purse, and pearl jewelry to make it a bit more formal.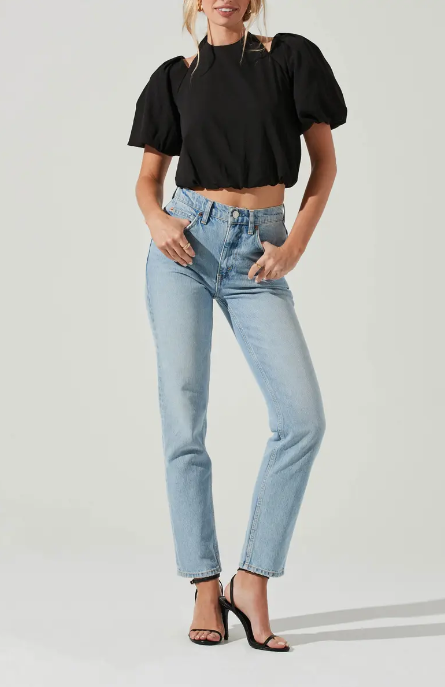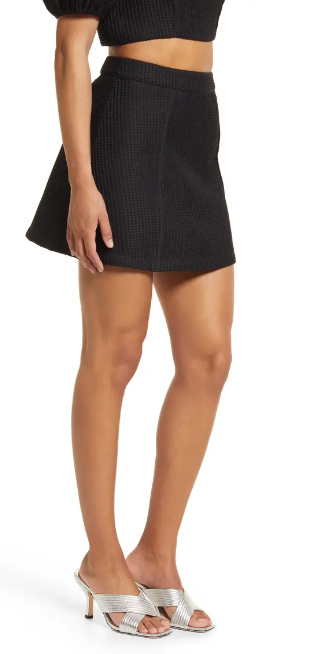 Knitted cropped top Faux Leather Blazer
(Source: https://shop.mango.com/)
Be a boss lady that's ready to conquer it all by dressing in a mysterious black outfit. Wear a square-neck knitted top with a matching structured faux leather blazer, and a pair of high-waisted jeans. You can accessorize this look with a pair of ankle booties or high-heeled sneaker shoes.
A pair of pear earrings and a statement necklace would make your outfit look well-dressed yet visibly stylish. You can add a pair of glasses for an edgy business casual style.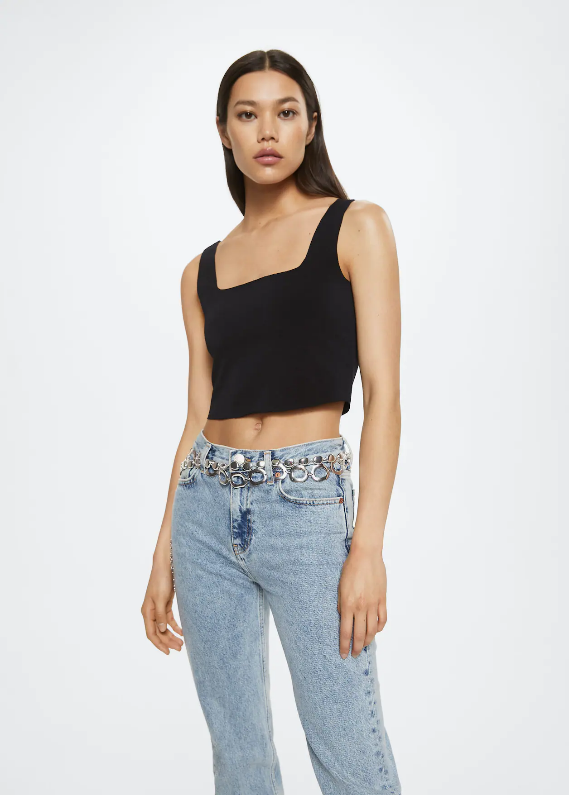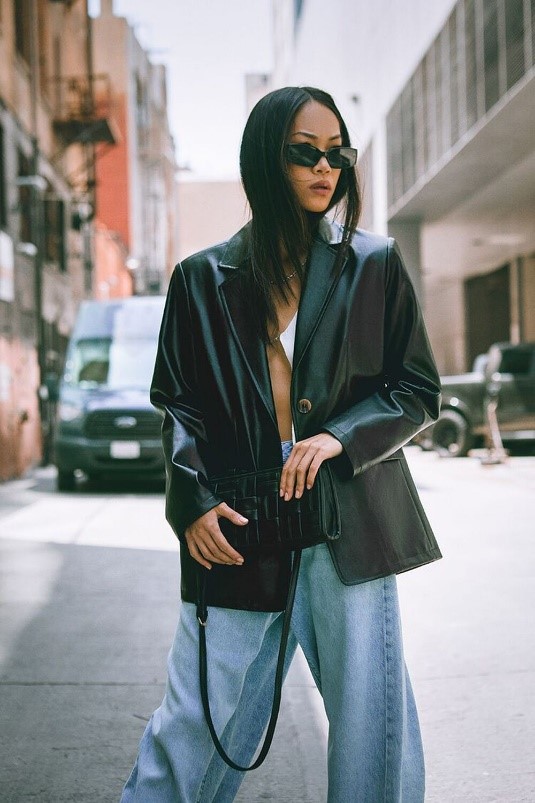 Juniors' Feeling Groovy Cotton Smocked Top Women's Boca Belted Wide-Leg Cropped Jeans, Created for Macy's
Bring some pretty positivity during your work hours, and feel inspired by dressing for success. A feminine and soft style featuring bright hues in a smocked top, and belted cropped jeans make an ethereal outfit that's appropriate in a business setting.
You can accessorize this outfit with gold or rose gold jewelry such as a dainty gold necklace with a heart pendant. At the same time, you can choose a mini crossbody purse with a minimalist design. The great thing about this outfit is you can wear it with a  pair of white sneakers for a comfortable and cute look.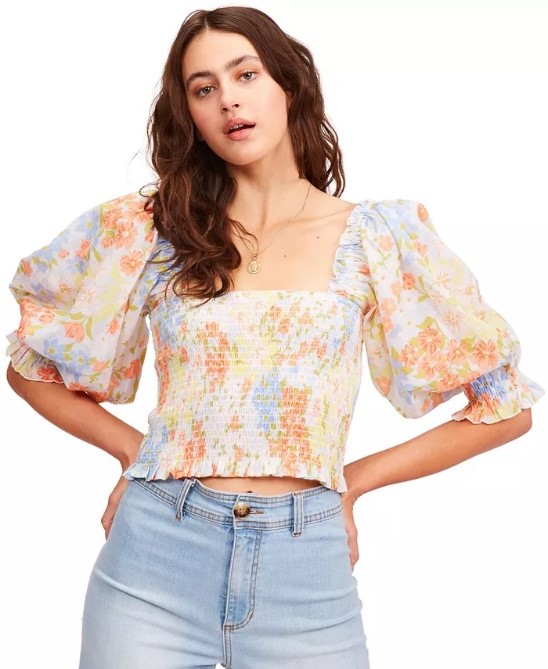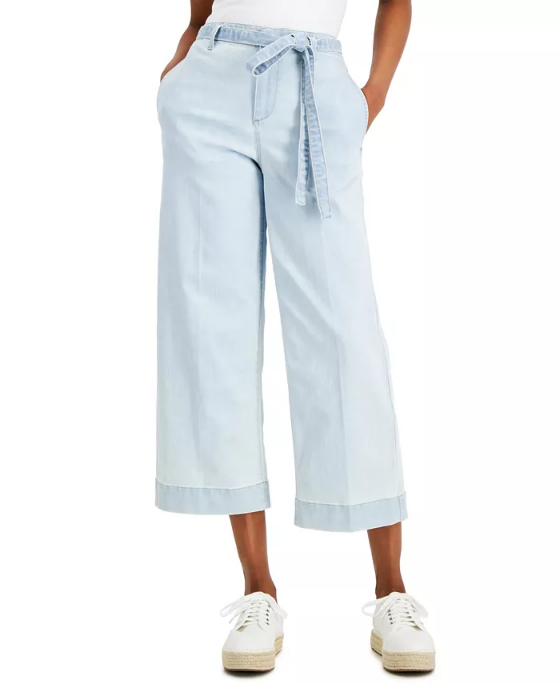 Cropped Colorblock Cardigan Sweater High Waist Midi Skirt
(Source: https://www.forever21.com)
Dress the part of a prim and proper pretty office lady with a cropped color block cardigan sweater from Forever 21 and a feminine high waist midi skirt. You can accessorize with a pair of nude pumps, or a pair of open-toe beige boots. As for the jewelry, choose gold or pearl jewelry to match your outfit. Then, to complete the look, a gold clutch, or a beige crossbody purse would give the perfectly pretty style.
These five ways how to style a crop top shows that even in non-casual settings, you can rock a crop top outfit without looking out of place. With the appropriate accessories and proper styling, you can achieve an everyday stylish outfit.