Lace dresses are a wardrobe essential that defies trends and are the picture of understated beauty and delicacy. There is a lace dress for every season that can elegantly accentuate your sense of style, whether you're moving into the warmth of summer, enjoying the comfort of fall, savoring the winter wonderland, or flowering with the coming of spring. In order to upgrade your wardrobe from January to December, let's take a journey through the four seasons and explore the enchanted world of lace dresses.
Welcome renewal and freshness in the spring
It's time to welcome the freshness and regeneration that spring provides as the snow melts and the flowers start to bloom. This season's lace attire ought to be a reflection of the splendor of nature emerging from sleep. Choose soft colors, delicate lace motifs, and light silhouettes that capture the spirit of a spring wind.
The Garden Party Dress
Choose a lace dress that reflects the season for those early spring breakfasts or garden parties. Imagine an A-line dress that is knee-length and detailed with ornate floral lace. Blush pink, mint green, or sky blue are soft colors that go well with the blossoming surroundings. For a refined yet whimsical style, pair it with ballet flats or ankle-strap sandals.
V Neck Lace Mini Dress In Ivory White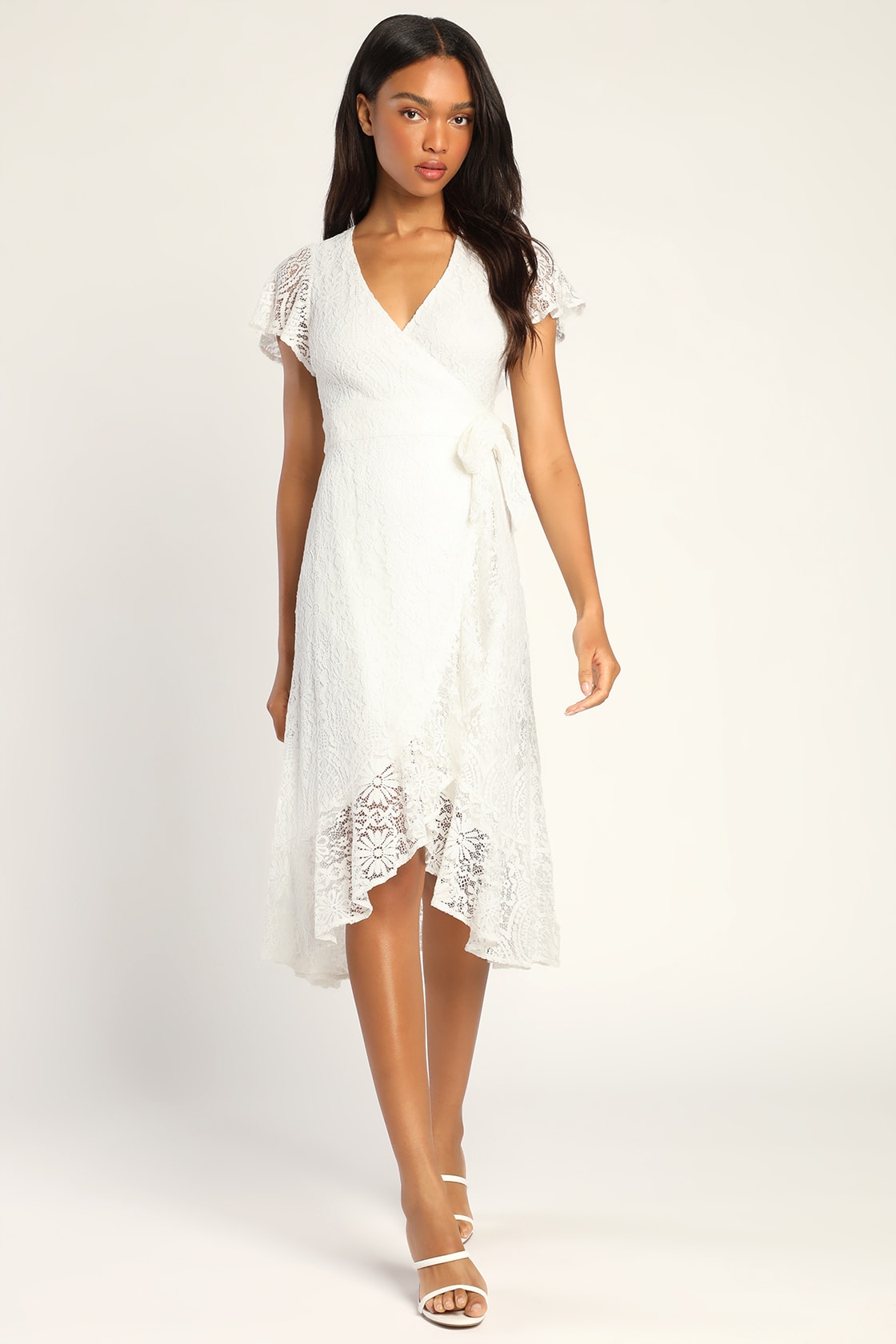 A midi wrap lace dress becomes a versatile option as spring progresses and the temperature rises. Its slimming shape flatters a variety of body types, and the lace overlay ups the elegance even more. Choose a dress that captures the romanticism of the season in a light tone with a floral lace pattern. Add delicate jewelry and a pair of heeled sandals to finish the ensemble.
Daily Angel White Lace Flutter Sleeve Midi Wrap Dress
Summer Style Your Sunbathing
Ah, the warm summer days, when you can flaunt your lace dresses to their fullest. Choosing breezy fabrics, lively colors, and whimsical styles that keep you cool and comfortable while oozing casual charm is the secret to mastering summer lace fashion.
Are you going to the beach or organizing a summer vacation? The solution is a maxi dress with lace. Choose a lace pattern that reflects the sun's rays and a lightweight, airy fabric that is simple to move in. Excellent color possibilities for this season include vibrant pink, turquoise, or sunny yellow. Strappy shoes, a wide-brimmed hat, and large sunglasses will finish off your beachy ensemble.
A cocktail lace dress is the perfect choice for those summer soirees and rooftop events. Look for a dress with delicate lace accents and a figure-flattering, form-fitting style. Play with vibrant red, electrifying blue, or even traditional white colors. For a memorable entry, wear it with chic wedges or heeled sandals and statement jewelry.
Fall Embrace Cozy Elegance
It's time to alter your clothing to enjoy the snug elegance of fall when the leaves change and the air becomes crisper. This season's lace dresses can include cozier hues, richer textures, and longer hemlines that exquisitely match the shifting landscape.
The long-sleeved mid-length dress
Think about wearing a long-sleeved midi lace dress as the weather becomes colder. Choose earthy hues like warm mustard, rich burgundy, or forest green. The lace design gives a touch of femininity while the longer sleeves offer comfort. Combine it with knee-high or ankle boots for a look that effortlessly combines comfort and style.
The Sweater Dress with Lace Accents
A must for fall, a sweater dress with lace details combines the best of both worlds. Look for a dress with lace accents on the sleeves or hem and a warm knit top. Caramel, crimson, and olive green are shades that conjure the season's color scheme. For a stylish fall outfit, team it with tights, knee-high boots, and a warm scarf.
Your lace dresses can assist you in grasping the enchantment of the winter season. Pick gowns that reflect the icy details of the season by having longer sleeves, thicker fabrics, and elaborate lace designs.
Eyelet Lace Fit And Flare Sweater Dress
The Velvet and Lace Dress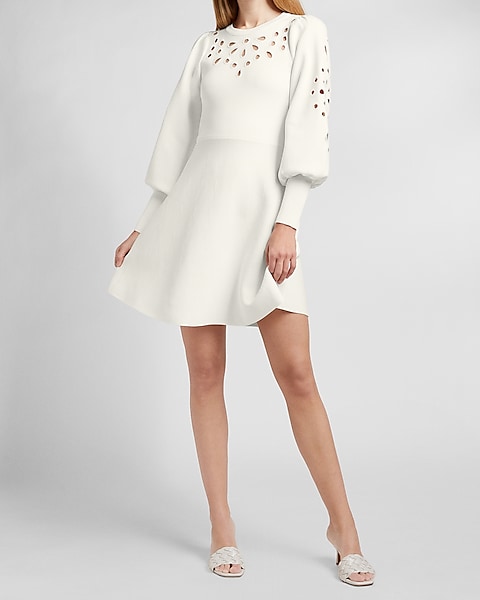 For an outfit fit for winter, combine the elegance of velvet with the delicateness of lace. Choose a dress with a lace skirt and a velvet bodice for a beautiful contrast. For this season, rich jewel tones like emerald green, royal blue, or plum are ideal. For a more formal appearance, pair it with pumps or high-ankle boots.
The Long-sleeved Maxi Dress
Think about wearing a long-sleeved maxi lace dress to formal winter gatherings. Pick a dress with a floor-length skirt and a full lace overlay. Dark colors like deep red, navy, or charcoal gray are elegant options. For more glitz, accessorize with dramatic jewelry and a faux fur stole.
Awaken My Love White Long Sleeve Lace Maxi Dress
Here are some tips on how you can make the most out of your lace dresses:
Balance Sheerness – Consider donning a slip or nude underwear if your lace dress is fairly sheer to ensure modesty while highlighting the elegance of the lace.
Try Out Different Colors – Try out various lace hues. Although timeless colors like white and black, don't be afraid to experiment with pastels or strong hues for a distinctive style.
Understated Accessories Consider using understated accessories because lace dresses are already complicated. Simple clutches and delicate jewelry can enhance the outfit without competing with it.
Layer Thoughtfully –  Include layers for flexibility in various settings.
Cardigans or Jackets – Add a lightweight cardigan or jacket to the dress to make it more weather-appropriate.
Belts – To give the lace dress structure, define your waist with a narrow belt.
Your haircut and makeup can accentuate the delicate vibe of lace dresses
Gentle Waves – For a romantic look, style your hair in gentle waves or a loose updo.
Natural cosmetics – Keep your makeup natural and fresh to preserve the charm of the garment.
Select the Appropriate Situation – From casual outings to formal gatherings, lace dresses are suitable for many different settings. Choose the proper length and style in accordance with that.
Lingerie Selection – Be mindful of the lingerie you are wearing underneath. To preserve a polished appearance, seamless, neutral-colored undergarments are ideal.
With the correct selections, lace dresses can easily transition through all four seasons and are a timeless and flexible addition to any woman's wardrobe. Every season has a lace dress that perfectly embodies it, from garden parties to beach vacations and comfortable fall evenings to winter soirées. Let your lace dresses therefore be a reflection of your sense of fashion, your individuality, and the allure of the world around you as you embrace the year's ever-changing beauty. No of the season, lace dresses are the epitome of elegance, whether you're dancing in the summer heat or strolling through a winter wonderland.