Hailey Rhode Bieber is now commonly recognized as singer and pop star Justin Bieber's wife. However, she's more than a wife, she was a former ballerina turned model. She has walked in runways for Dolce & Gabbana, Tommy Hilfiger, and Versace to name a few. She has also graced the covers of Elle, Allure, and Vogue.
She is known for her laidback, comfortable, and iconic street-style looks. Famous for her clear skin, sleek hairstyles, and feminine aura, she is a fashionista worth taking inspiration from!
Neutrals with a Pop of Color
One of the best things I love about Hailey Bieber's style is her low-key outfits. She is often seen wearing neutrals like beige or black then she will add a pop of color through her purse, shoes, or cap.
You can easily apply the same principles to your daily outfits. You can wear totally black or white outfit, then add a completely different color accessory.
One of the more common ways she styles her outfits is by wearing matching suits, a crop top, and a pair of comfy sneakers.
Source: https://www.pinterest.ph/
Comfort is Key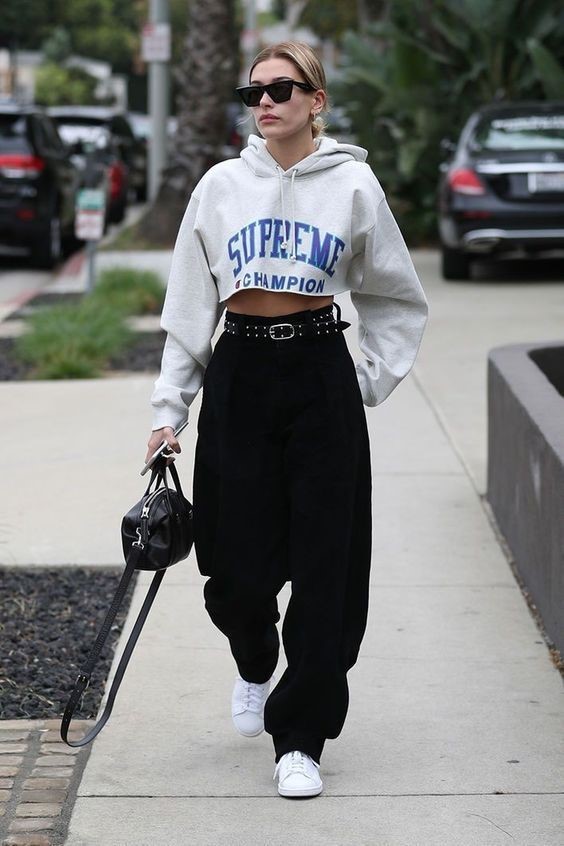 Another excellent reason why her style is totally doable is she often wears comfortable clothing. Whether she's at home, hanging out with Justin, or having fun with her model friends like Kendall Jenner and Gigi Hadid, she always looks flawless yet comfortable.
She often wears cool kicks, jogger pants, and fitted crop tops. However, to make her style look well-dressed, she carries a fancy purse or wears big earrings to balance the sporty look.
You can get her to look for less by wearing any baggy crop top or crop hoodie, plain black jogger pants, and a cute purse.
Source: www.Pinterest.com
TEQERS™ Cropped Hoodie Sacha High Waist Jogger Pants
Cut-Out Dresses Look Sexy and Sassy
There's no denying that Ms. Hailey has an amazing figure. She was a ballerina for many years, so she has a statuesque posture and graceful movements. She does boxing, weight training, and cardio so her arms and stomach look well-toned.
If you want to get her sexy but classy outfits, you can check out plain-colored cut-out dresses, wear a pair of heels, and put your hair up in a clean updo.
If you have watched her interview recently with Jimmy Fallon, her stunning cutout dress in her fit body is evident. She was definitely the queen of clean and cut-out looks.
Source: www.Pinterest.com
CHOCOLATE SLINKY MULTI STRAP CUT OUT MIDAXI DRESS CHOCOLATE KNIT CROSS FRONT OPEN BACK DRESS
Clean and Classy
Whether you see her doing Tiktok videos, or starring in Justin Bieber's videos, it's always noticeable how clean and classy she looks. This is because she always keeps a sleek hairdo with a business casual outfit.
You can simply find a pair of wide-leg slacks, and a plain polo shirt, and add a little bit of fun with a pair of cat-eye sunglasses.
To get her to look for less, you can also get a matching plaid blazer and pants, and wear a plain-colored cropped top.
Source: www.Pinterest.com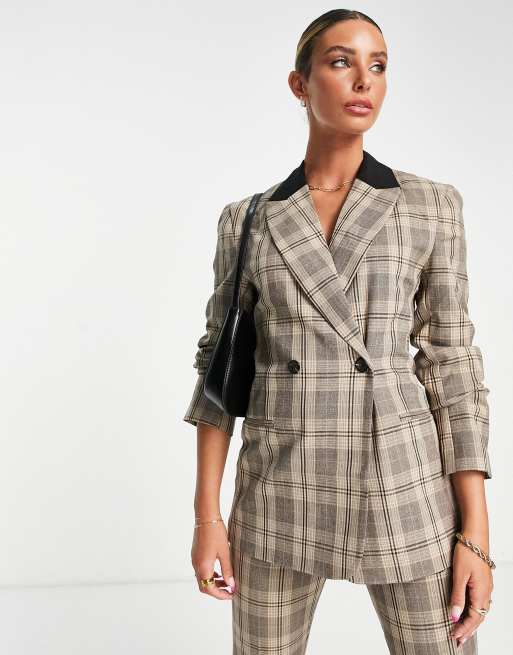 ASOS DESIGN double breasted suit blazer in brown check Aviator Tinted Sunglasses
Oversized Jackets and Trench Coats
She definitely loves being cozy. When she's not wearing cut-out dresses or plain-colored crop tops, she's often seen wearing oversized sweaters, jackets, or trench coats, especially during the fall and winter seasons.
Source: www.Pinterest.com
Leather is the Lady's Weapon
If you've seen her look stunning in cut-outs, you'll be amazed by her toned body and excellent style in leather. She likes to incorporate leather whether it's a casual or formal outfit.
You can get her to look in a leather dress, coat, or a pair of tight pants. This can give you an edgy and sexy vibe.
Hailey Bieber is an amazing model, with her asymmetrical face and doable style, she is a fashion icon. You can easily get inspiration from her street outfits, using clothes that you already own in your closet. Plain pieces like a neutral-colored structured blazer, black crop tops, and basic accessories such as dangling earrings, and half-moon-shaped bags are some of the things you need to achieve Ms. Hailey's sleek and stunning looks.