Fashion has so many ways to make statements, and honestly, sometimes the most basic pieces tend to make really great outfits. Mostly, you would consider black and white shirts, for example as basic pieces but that make great statements. But there's a color that can be also quite beautiful and even retro to add to our statement pieces, and that is caramel. This beautiful brownish color will definitively give 70's vibes and of course autumn vibes. If you're into earthy tones you can always combine it with similar colors and give that vibe too.
If what you're looking for is a retro vibe, here are some outfit ideas that you can create wearing a lovely caramel shirt.
You can start with a long sleeve turtle neck caramel shirt, if possible, with a texture like the one in the picture. You can pair it with a beautiful, little bit distressed, button-front denim skirt. For shoes, you can add some boots too. Simple, yet very warm, cozy, and perfect for autumn with a cute retro, 70's vibe.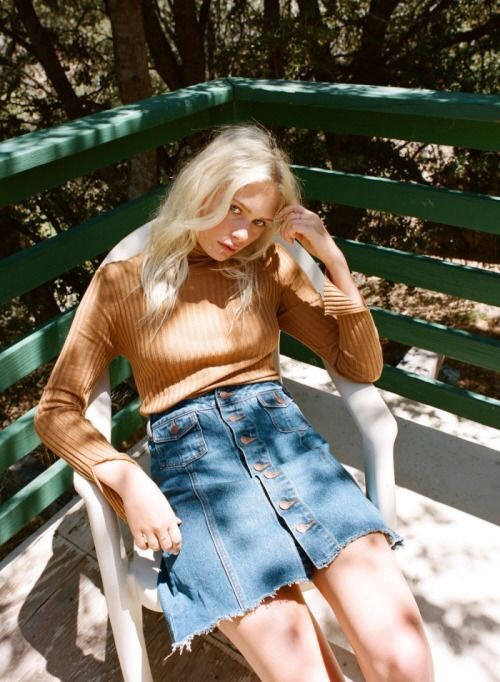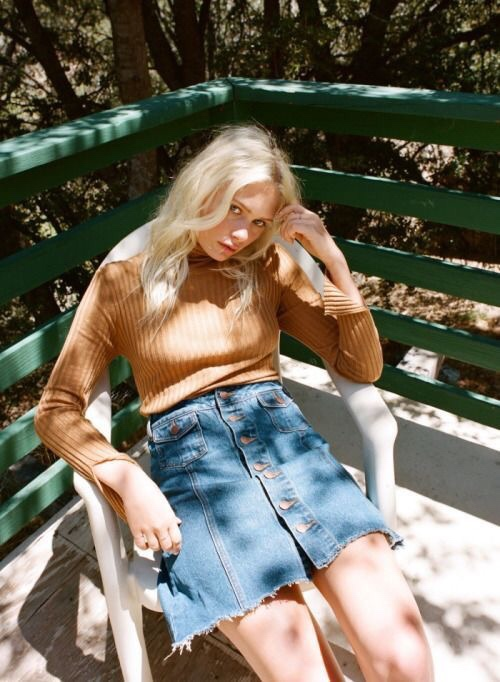 The next outfit idea also has a retro vibe. This time, you can wear a beautiful caramel short sleeve shirt, very lightweight and comfy, with beautiful white flare trousers. For maximum comfort, you can button down your shirt, but only to the levels where you feel comfortable. For shoes, the whole outfit could do also caramel sandals or boots, depending on the season.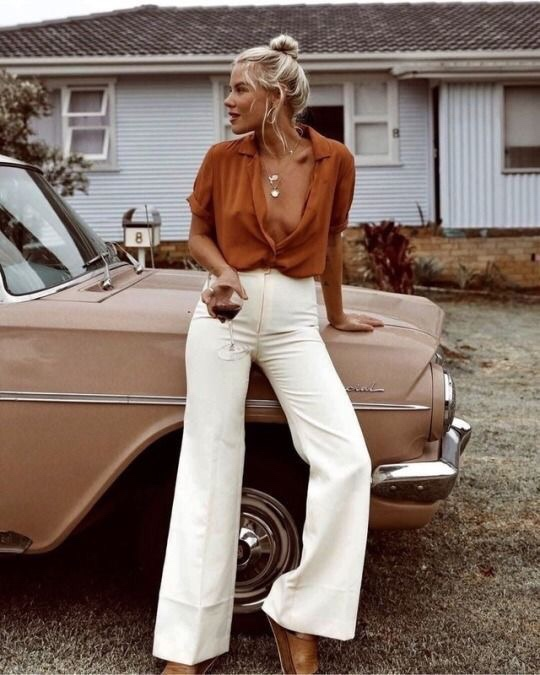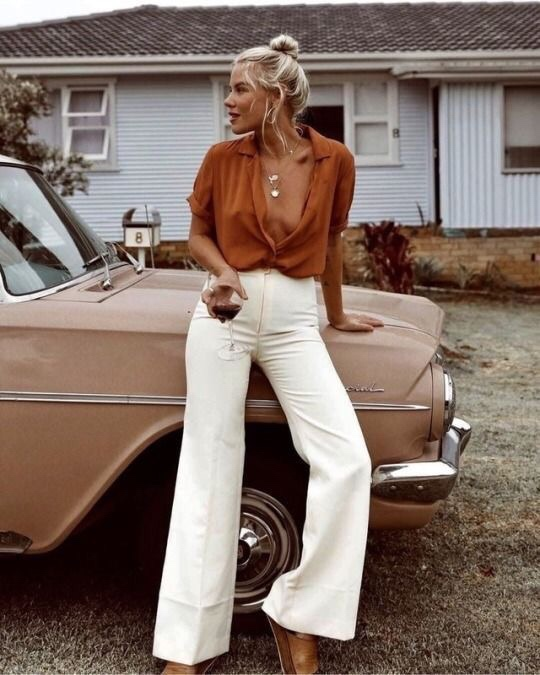 So far, this color really brings out those retro vibes, that just transmit warmth and even coziness. It can be combined with different colors, but definitively you'll get the retro vibes mixing it up with white, denim blues, green, and more brownish colors. And everything is definitively super comfy and you don't really need to pay a lot for most of the pieces.
Maybe a little visit to a thrift shop will help you find great pieces for these types of retro looks and for a great price. If not, most pieces you can get at worldwide retails also at reasonable prices, and pretty sure some can be found and are sold as basics too. Definitively not hard to find either in physical stores and also online. You just got to do some searching.
For another simple yet very cute retro outfit, you can wear another long sleeve, high-neck caramel shirt and pair it with a cute denim overall dress. You can pair it with cute over-the-knee boots too. It low-key can give you some Daphne from Scooby Doo vibes.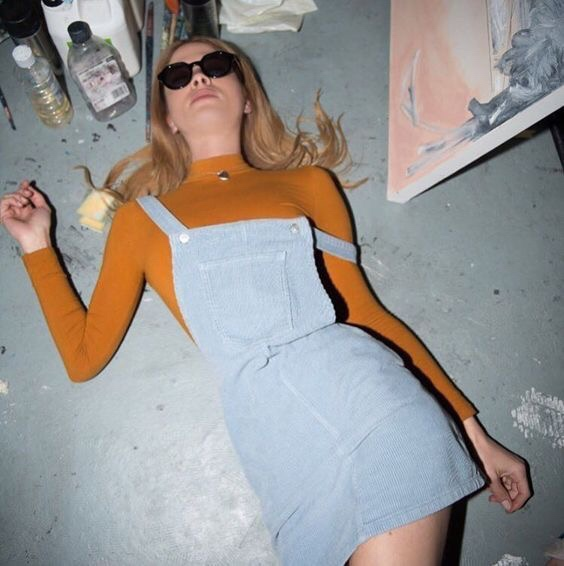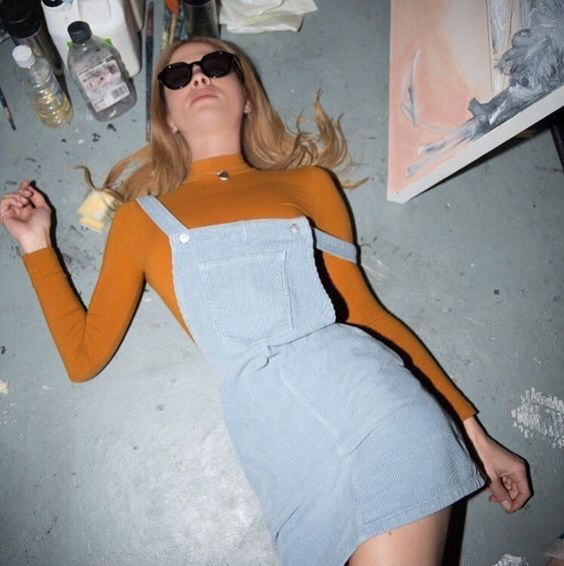 Then there's a similar look to the first one. It does imply a lovely caramel long sleeve, high neck shirt, but this time we are pairing it up with a brown button-front skirt. To keep the tones you can wear cute leather dark brown booties.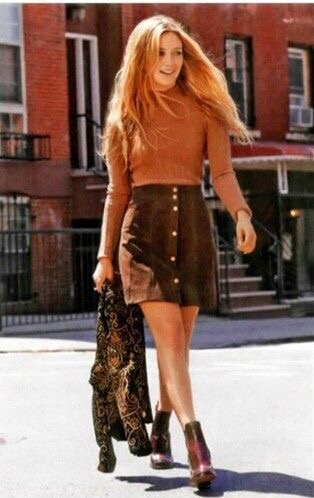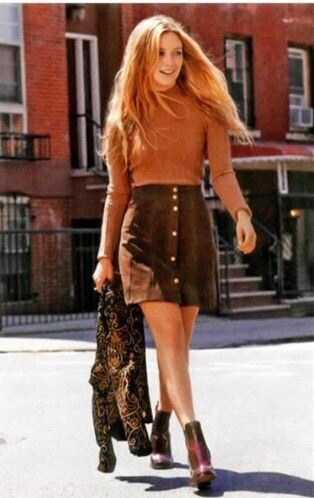 And last but not least, this outfit not only will give you retro vibes, but it will also give you some military vibes by the mix of colors. This time you pair a long-sleeve caramel shirt with a high waist military green pants. This look is definitively giving everyone the retro military vibes.