The Leather skirt with a Sweater is quite famous in the spring season because of its elegant and chic style. You can wear this fashion attire in any season, but you can try wearing a cotton sweater or lightweight sweater instead of wool to feel more comfortable and breathable in the summer season. There are many different types of leather skirts that you should try this spring season that will give you many different vibes on your outfit. When it's hot, I also recommend wearing a leather skirt that has a lighter color because it reflects the heat, and as for the cold weather, go for the traditional black leather skirt. Here are some styles you can go for when wearing a sweater and leather skirt.
Matching Beige
Choosing the same color with a different shade is one of the most popular combos when matching an outfit because it looks pleasing in the eyes and at the same time appealing too. If you're looking for something more casual but elegant, this is the get-up for you. You can add a bag that has a different neutral color to give more life to your outfit. A faux leather skirt is also good when it's hot because it will feel more comfortable to wear.
White Sweater
White sweaters are one of the easiest to wear. Why? Because they can match any color and any clothing. You can wear this with your leather skirt in many different ways, like you can wear it loose, tuck in the whole thing, or just the front. Just remember to go for the style on what vibe you want your outfit to look. Also, I recommend getting a loose sweater when the temperature is hot to feel more relaxed and cozy.
Traditional Black Leather Style
Are you looking for something to add some spice to your sweater and leather skirt outfit? If yes, try adding some outwear like the leather jacket to give you an edgy vibe that looks cool and modern. This get-up has been famous for centuries because of how modish it seems. Wearing this attire will make you look like an independent and strong woman. I also recommend wearing this when the weather is a bit cold.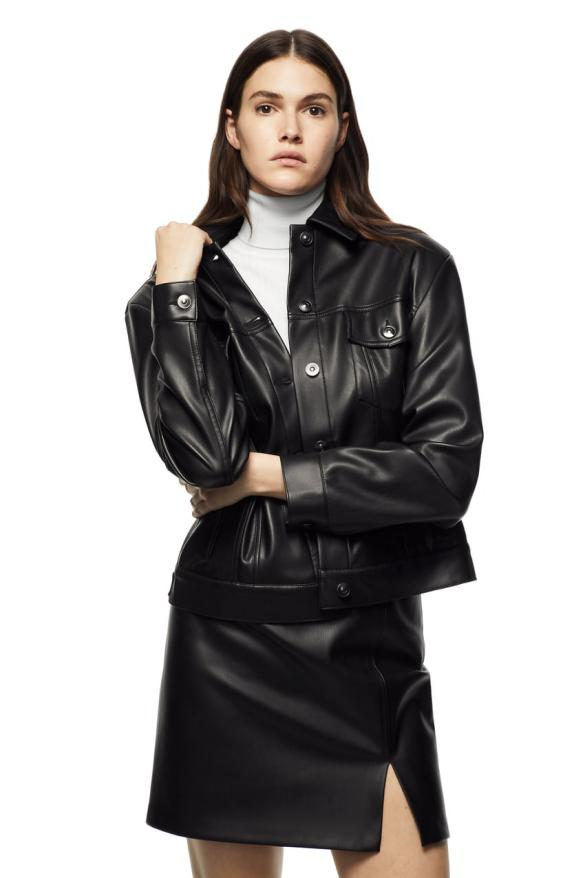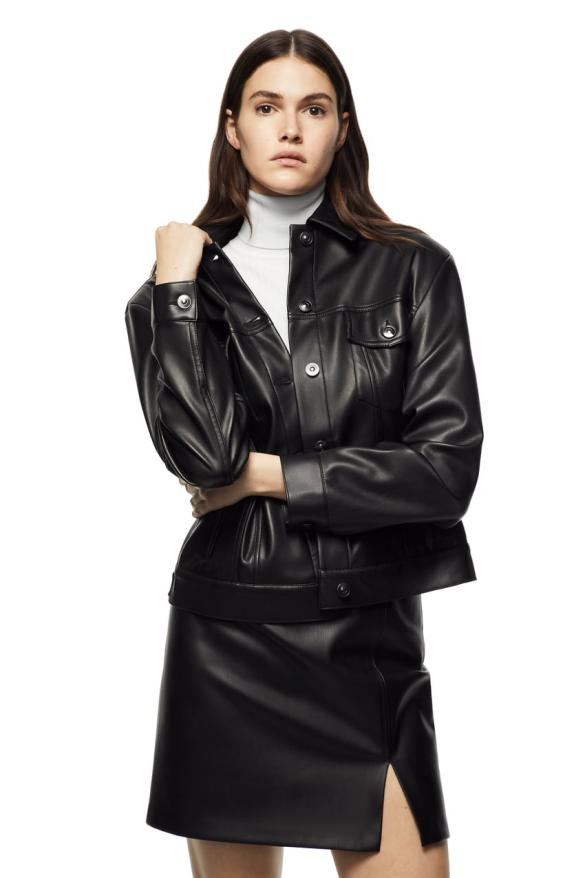 Match it with Some Boots
The boots and leather skirts are among the most common matches in the fashion world because they look good together that brings out the elegance of the outfit. You can also add some knee socks not only when the weather is cold but also to give you a bit of a chic vibe. You can wear this get-up as elegant casual wear or office attire that will look outstanding for a work outfit.
Beat the Heat with Light Colors
As I have mentioned earlier, the best thing to beat the heat is to wear light colors because it reflects more light and dark colors absorb more heat than light colors. Here is a get-up you can go for to beat the heat and look chic. This rib-knit sweater is more comfortable to wear at a hot temperature compared to other sweaters. As for the skirt, go for a faux leather mini skirt for a more breathable feeling. This attire will give you a modern and classy appearance.
Feel Warm and Cozy
When we hear the spring season, we expect it to be warm because we are getting more daylight, but sometimes spring tends to be colder than the fall season. That's why I'm going to include this get-up in the spring season. A simple oversize turtle neck sweater with a long leather skirt makes you feel warm and comfortable when the temperature is cold. As for the footwear, I recommend wearing high-knee boots to make you feel warmer on your feet. You can also add some fashion accessories to keep you warm from the cold, like knee socks.
Stylish Leather Skirts

If you want to put on some more details on your outfit. Try wearing these leather skirts with unique styles and designs that will show how fashionable you are. Wearing this will also give you a vibe of a voguish and modern woman. You can also match these leather skirts with any sweaters, and you can add some accessories like a neutral color handbag that will make your look high-class.
Adding Statements to your Outfit

How can you add some statements to your outfit? Simply by adding some fashion accessories or some outwear layerings such as necklaces, belts, and bags, you can try a denim jacket, biker jacket, or faux leather jacket for the outwear. All these are going to make your outfit more stylish and will give a fashion statement
Always remember when wearing a leather skirt and sweater to match it with the right color and accessory. Look fashionable now wearing your leather skirt and sweater this spring season.