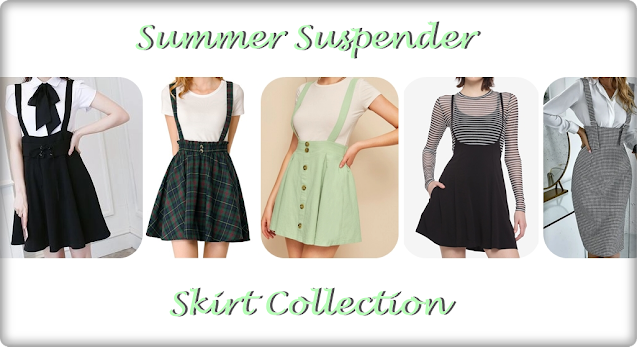 Skirts are one of the most beloved fashion statements and what better way to spice the outfit than to wear suspender skirts? They are playful and remind us of childhood, but why not wear them at a slightly older age?
Black High-Waisted Suspender Skirt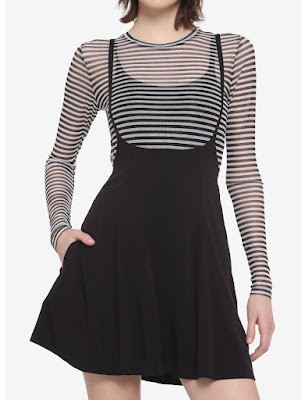 Let's start with a simple high-waisted suspender skirt that goes well with pretty much everything. We adore this skirt for many reasons, and one of them is definitely its practicality and simplicity. It features hip pockets, a rear zipper closure, and adjustable straps which is so convenient. This skirt would look amazing with a t-shirt underneath during Summer or even with a turtleneck and tights during Winter. You can dress it up or down, the choice is yours.
Plaid Skater Suspender Mini Skirt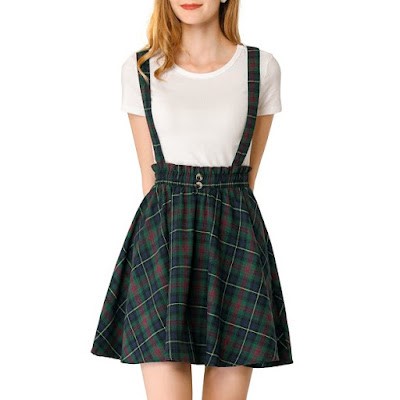 Another high-waisted suspender skirt has a flattering and flared hem that finishes just above the knee. It features a classic check design, which is popular for any season, and a paper-bag finish at the waist. This suspender skirt is easily paired with a fitted top or a t-shirt and is perfect for daily wear.
Button-Front Crisscross Back Suspender Skirt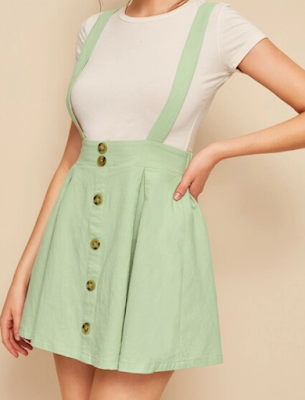 If you are looking for a suspender skirt that is fun and ideal for a romantic date, this one is for you! It is a button-up flare skirt in a gorgeous color – mint green. This color is going to be popular this Summer and you will definitely catch someone's eye by wearing it.
Plain Suspender Flared Skirt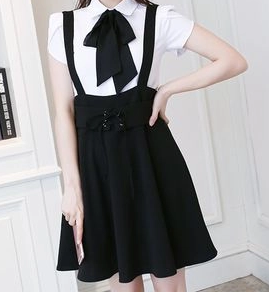 Do you want to achieve a fantastic casual look in just a few moments? Then choose this charming skirt with suspenders. This is a cute solution when you don't know what to wear, but at the same time, you want to look great. To complete the overall look, choose your favorite white blouse, spice it up with a bow and enjoy the perfect daily combination,
Houndstooth Split Suspender Skirt
This suspender skirt is perfect for work and business events. This classy and elegant skirt features a houndstooth pattern in black and white, which means that you have a lot of options when it comes to choosing a blouse or a shirt underneath. The length is just above the knee which makes it professional and formal.
Do you like to wear skirts with suspenders or do you prefer regular skirts? Let us know which suspender skirt is your favorite!