Spring is the season when everything blooms so beautifully, and that includes you. Show off your beauty and personality through beautiful clothes.
Spring dresses are some of the most loved dresses by fashionistas because of the delicate, refreshing, and lovely designs. Check out these pretty Spring dresses that can show off your beauty inside and out:
1. Dotted A-Line Dress
A dotted A-Line dress is a classic design for a spring dress. Doesn`t it remind you of the 50`s housewives? Collared A-Line dresses are so feminine and cute to wear with a pair of ballerina flats or loafers. Like Taylor Swift, you can wear huge statement sunglasses and rock a pretty vintage look.
2. Striped Linen Dress
For a casual and airy look, you can opt for a simple cami dress. You can put on a white or beige cardigan on top. You can also accessorize with gold pieces of jewelry and a pair of nude pumps if you want a more dressed-up look. Whether it`s for a casual date or a day at the mall, this outfit is an absolute stunner!
3. Get Dressed in a Knit Dress
If you need to go somewhere quickly that requires dressing up, a collared knit dress is your best friend! You can wear these cute stripe-trim clothing and pair it with black and white oxford shoes.
A cute backpack purse, a pair of cat-eye sunglasses, and a silver watch should complete the look! This look is easy on the eyes and a fast way to look fashion-forward.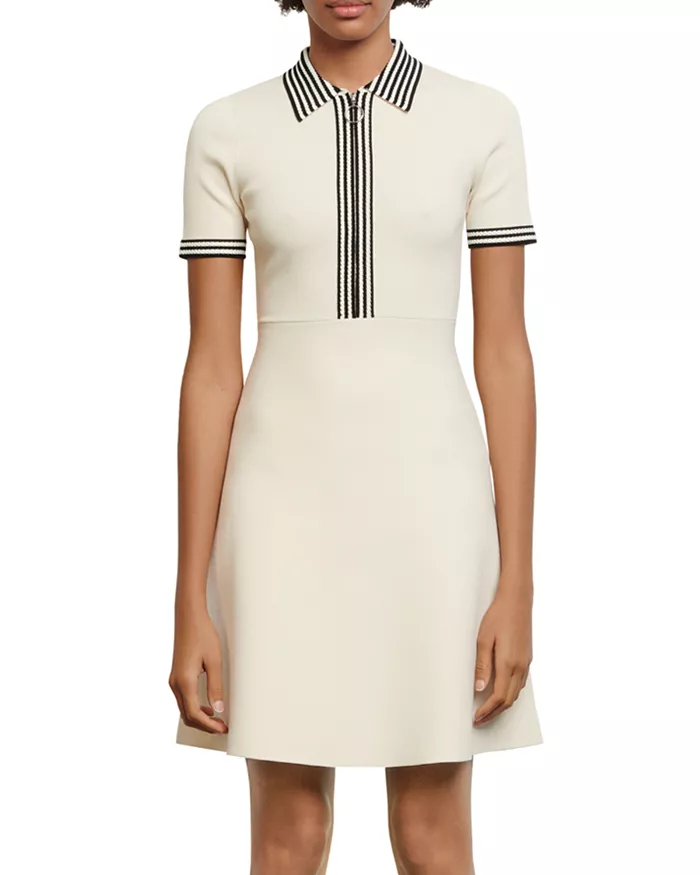 Paulzy Stripe-Trim Knit A-Line Dress
4. Lovely in Lace
Do you want to look elegant in the easiest way? An eyelet lace mini dress can help you achieve an innocent and pure look.
You can wear a lace dress with slightly ruffled sleeves with a pair of silver sandals. French toenails would match your sandals and outfit perfectly.
5. Embroidered Dress
An unconventional way to celebrate a new season is by wearing a gorgeous embroidered dress. You can wear this with big gold circular earrings and a woven bag.
This look is great for breakfast at the beach or a picnic by the ocean. The beautiful patterns of the embroidery will surely remind you of nature and art.
6. Tweed Mini Dress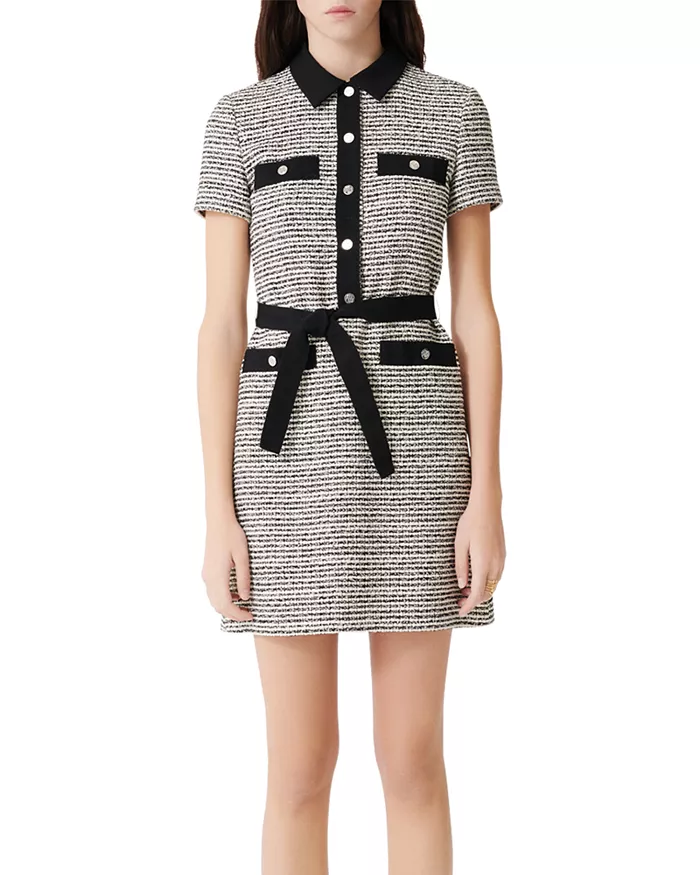 Renala Belted Tweed Mini Dress Raveno Knit Sequined Shirt Dress
For a preppy and sweet look, you can bet on a tweed mini dress or shirt dress. These dresses are easy to style because it`s already a statement clothing item you can wear with a pair of white sneakers or pumps if you want to look more put-together.
You can get a cabbie hat or a bucket hat to protect your hair and face from the sun`s damaging rays for the accessories. Just add a silver watch, and wear a pair of cute studs, and your outfit is complete!
7. White Cotton Dress
Look versatile with a white long-sleeved cotton dress and a pair of black boots. This outfit is minimalist and fitting for Spring.
You can express yourself with this blank canvass through accessories. If you have an edgy style, you can wear a choker and a set of silver rings. If you have a feminine style, you can wear a chunky gold necklace.
Spring is all about basking in the refreshing sunlight and the bloom of flowers. Express your creativity and personality through your spring dresses and accessories. The key to wearing your self through your outfits is to stick with the basics and accessorize from there.