Nice earrings complement the whole ensemble. So, why not increase the fun with earrings and cute shapes like the moon, stars, triangles, and feathers in different color metals. With these cute earrings that sometimes have more relaxed, plain shapes alongside fancier designs with dangling stones and crystals, there's no doubt you'll keep things interesting.
Butterfly Pendant Small Hoop Earrings
The pair of earrings are produced and curated consciously. A tiny hoop, a high-polished butterfly charm, and infinity closures are combined. They are cute young women's earrings.
Dice Resin Drop Earrings
For regular wear, group wear, travel wear, or wedding wear, earrings give excellent choices. They are a fashionable, flexible design, matching your various clothes and different designs. A great gift for birthdays, anniversaries, or any festival for family or friends.
Cross Floral Stud and Ear Cuff Earring Set
The bold gold cross ear cuff earring with cross stud makes a declaration shouting I'm Cross! Yeah, it doesn't, but you're going to love those cuffy earrings. A bar of small gold plated cross stud is included. This is an accessory that doesn't ever go out of style. They are an easy way to add some color to your look and finish any outfit.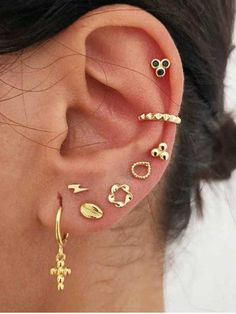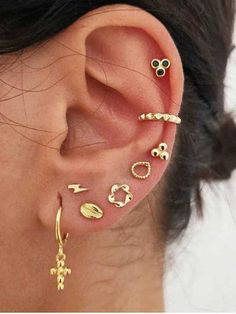 Hollow Out Tropical Leaf Earrings
The stylish earrings are adjustable and fit your various clothes and different designs. These designer pairs are faithful to fashion and make a perfect addition. Great for weddings, birthdays, Mother's Day gifts, and Christmas gifts. Gives out the biggest surprise and choice.
Geometric Exaggerated Stud Earrings
This is a new trend for earrings. Manufactured from alloy and acrylic content. It's a beautiful accessory and a fantastic gift for your friends, too. Since it is appropriate for any season, it will also make you look great.
For someone serious about fashion, earrings are the perfect accessory. For special occasions, whether it's teaming cute studs with everyday outfits or going big and bold with drops. A range of silver, gold, cubic zirconia and so many other cool designs have been kept in many beauty shops across the globe.