If you were to survey many fashion lovers and designers out there, you would probably receive many answers about color matching if you ask them what is crucial in building your style? Or, what indicates that you are fashionable?
Yes, color matching is quite challenging because you have to consider the prints, the hues, and even the patterns of the whole ensemble. In this article, you will take the blue shirt as an example of how to match it, especially in the spring season. Here are the suggestions:
There are many shades of blue. If your shirt is already on the hue, do not hesitate to go the near take. You can match it with another blue shade. For example, if your shirt is sky blue, you can go for a pair of navy-blue denim jeans and still look stylish.
This play of familiar colors is a trick that will upgrade your look as it underscores your top rather than stealing the attention of a fashion detail. Sometimes, you need that for the color lining.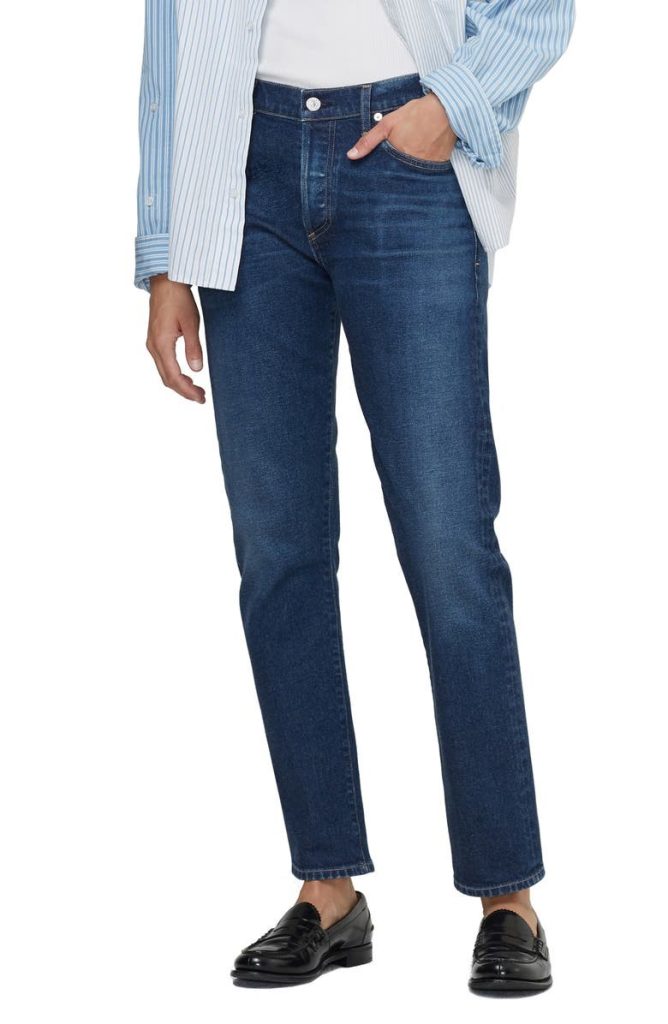 (Shop at www.nordstrom.com)
More Shades of Blue
Another way to match your blue shirt is to go for more shades of blue. Remember that you can always be playful in fashion to try different patterns and prints while playing along with its various hues of Blue.
The good thing about this trick is that it can give you a new sense of vibe and personality which can be a good thing for your companion. You can be their fashion inspiration.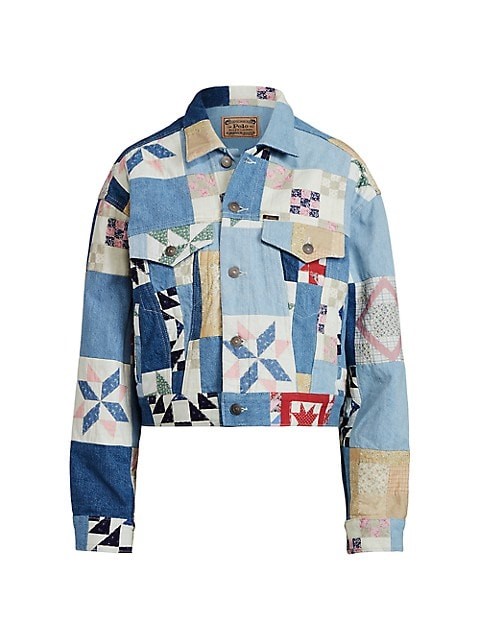 (Shop at www.saksfifthavenue.com)
Go Contrast
The practical and typical way to match two shades in fashion is to go in contrast against each other. For instance, if you wear a white top, you can always go for a black pair of pants.
The same can be applied when you are contemplating matching your blue shirt. If the blue hues are a little darker, you can go with happy tones such as yellow or any summer vibrant that can make your outfit look alive and happy.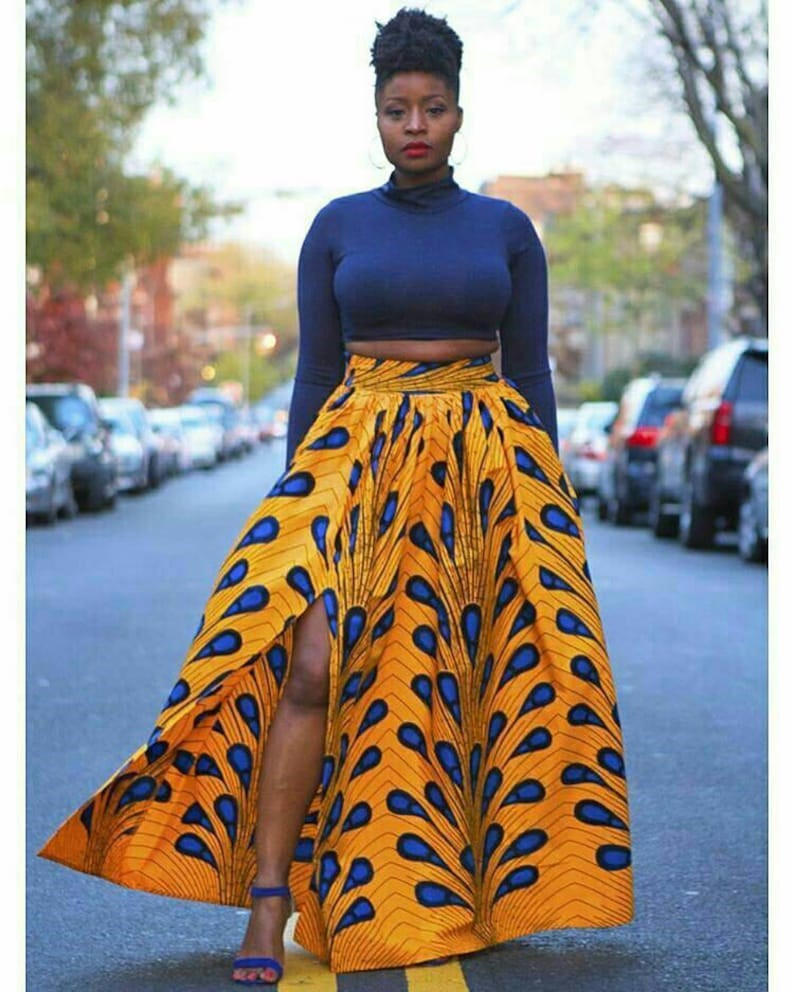 African Print Skirt, Dashiki Skirt
(Shop at www.etsy.com)
The Neutral Pair
You can never go wrong with a neutral pair because it always serves as an excellent foundation to emphasize one particular fashion item. So, if you want to nail your blue shirt, it will always be a perfect way to match it with earthly tones, such as gray, brown, and whatnot.
You do not have to worry about appearing so dull because sometimes, simplicity speaks louder in fashion.
Nail That Look
These ankle boots from Bloomingdales are an excellent match for your blue shirt. Yes, a t-shirt may appear casual, but you can upgrade it if you pair it with this pair of boots, as it gives you the vibes of a cowgirl who is ready for almost anything.
Regardless of its color, the trick to matching your shirt is considering the patterns, style, and even fabric. Your idea is limitless, so you can always explore and be confident about what you always try.
Have A Stripe
You can look stylishly simple in spring by having an oversized shirt with a stripe. There are plenty of ways on how you can style this kind of shirt which makes it a great option for timid days. As you can see, you can wear it by unbuttoning the shirt and exposing your sports bra or crop top. This way, you'll be able to unlock your sexy side to be more pleasant and alluring.
On the other hand, depending on your mood and interest, you can have this oversize shirt with jeans and some accessories for spring such as sunglass and a hat.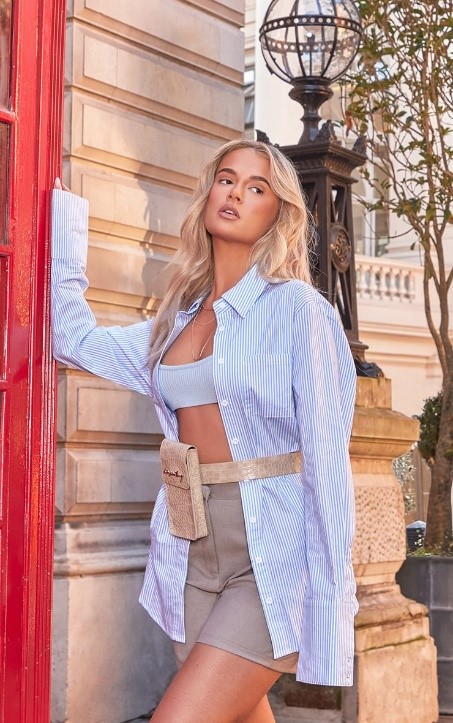 Pale blue pinstripe oversized shirt
(shop at https://www.prettylittlething.us/)
Get Active
Never forget that the spring season is the season where fun and sports activities are mostly happening. So you must have a blue shirt that you can use for outdoor activities. Try creating your get-up this spring season with this multi-print blue shirt, jogging pants, and a cap. Surely you never want to simply stay at home this spring, right. So have a blast with this style and get active this season.
This kind of get-up is easy to copy and you can have some fun by mix-matching some of the outfits to match this multi-print blue shirt. You can wear a short instead of jogging pants and a bandana for a cap. You may also carry a handbag as long as it is necessary.
Forever Jeans
Don't underestimate the beauty and versatility of a jean shirt. It has been the kind of shirt that will match any kind of season without getting out of place. If you're out of options this spring season on what to wear, then turn to your jean shirt. There are multiple ways how you can wear this shirt with a style. You may try on unbuttoning some and exposing some of your skin on top. You may also choose to use it as a layering while having a crop top or shirt underneath.
Nonetheless, no matter how you want to style this shirt, the beautiful result of your overall outfit comes with the help of its complementing dresses. Like this one, you can wear jeans for your bottom and a sandal or ankle boots.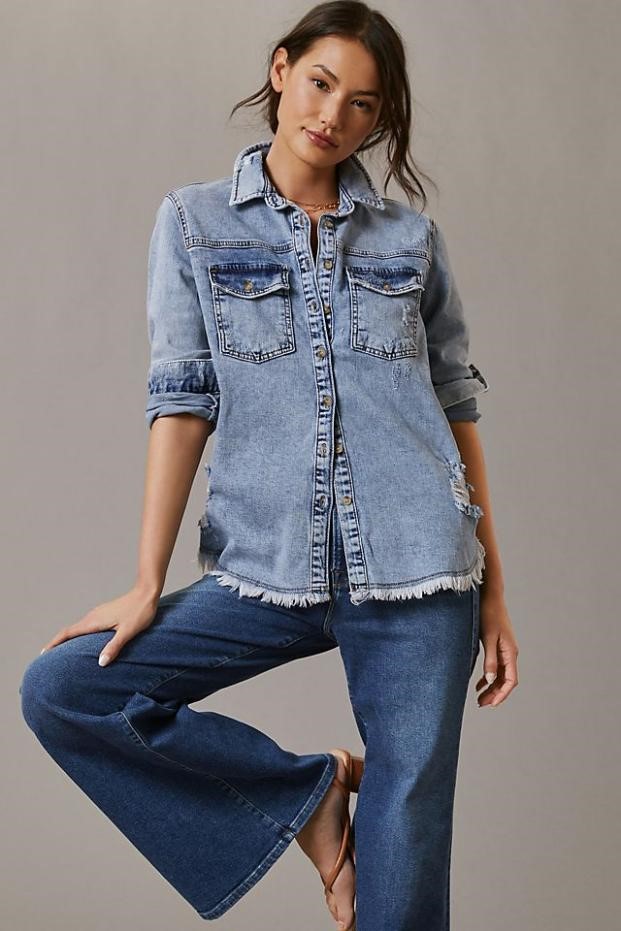 (shop at https://www.anthropologie.com/)
Now that you've learned something about how to beautifully match your blue shirts with the rest of your outfit this spring. Then we hope, that you will be able to exhaust all of these ideas to enhance your fashion statement. It is not wrong to copy some of these ideas on how to wear a blue shirt, most importantly getting the inspiration to create your own style. What we want to achieve is the knowledge you will gain to be more versatile in your clothes this spring season!