Cargo pants, which offer the ideal fusion of design and utility, have made a surprising resurgence in the world of fashion. Cargo pants offer a flexible option for casual ensembles because of their numerous pockets and relaxed fit. Knowing how to wear cargo pants well can up your style no matter where you are going—on errands or on a casual outing with friends. We'll give you some helpful advice on how to match cargo pants for effortlessly cool and cozy casual ensembles in this article.
Embrace the Basics: T-Shirt and Cargo Pants Combo
Nothing matches the traditional pairing of a t-shirt and cargo pants for casual attire. Choose a well-fitting, solid-colored t-shirt in a white, black, or other neutral color. This gives your outfit a neat and basic foundation. It goes well with cargo pants in a complementary hue like navy, khaki, or olive green.
Wear a pair of chic sneakers or loafers and slightly pull up the cuffs of your cargo pants to add a touch of refinement. With this appearance, comfort and style are well balanced. Accessorize with minimal jewelry, such as a delicate necklace or stud earrings, for a more polished look. This adaptable combo is perfect for day trips or all-day shopping.
BASIC GREY MARL COTTON BLEND FITTED CREW NECK T SHIRT
(Shop at https://www.prettylittlething.us/)
Sweater or Oversized Knit with Cargo Pants for Easy Chic
Wear your cargo pants with a thick sweater or an oversized knit for a warm yet stylish outfit. This combination keeps you warm during cooler months and gives your clothing depth and substance. Choose a sweater that contrasts with the color of your cargo pants to provide visual interest.
Tuck the front of the sweater loosely into the waistband of your cargo pants to retain a balanced silhouette. This keeps the clothing from looking shapeless while defining your waist. For a fashionable edge, finish the ensemble with ankle boots or sneakers. For more warmth and fashionable touch, add a scarf or beanie. This outfit is ideal for weekend brunches, casual outings, or walks in the park.
(Shop at https://www2.hm.com/)
Denim Duo: Cargo Pants with Denim Jacket
Combine your cargo pants with a denim jacket for a cool and edgy casual look. This pairing offers the ideal balance of toughness and style. To contrast your cargo pants, look for a denim jacket with a medium- or light-wash finish.
To keep the spotlight on the jeans, choose a simple t-shirt or tank top to wear underneath the denim jacket. For a hint of urban cool, wear the combo with combat boots or sneakers. To complete the effortlessly chic attitude, accessorize with a crossbody purse or a backpack. This attire is perfect for outdoor festivals, concerts, and hangouts with friends.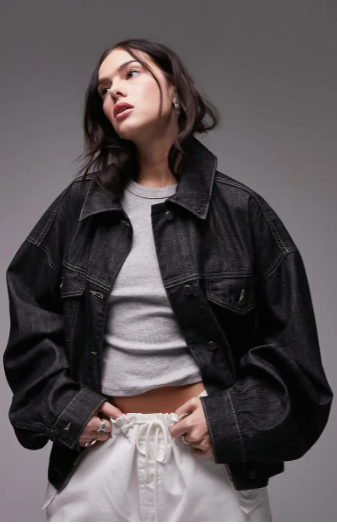 Balloon Oversize Denim Trucker Jacket
(Shop at https://www.nordstrom.com)
Sporty and Stylish: Hoodie and Cargo Pants Fusion
Combine your cargo pants with a sweatshirt for a relaxed athleisure style. This combination gives off a casual, sporty vibe and keeps you at ease all day. Choose a hoodie that matches the color of your cargo trousers to create a coordinated ensemble.
Select a fitted or slightly oversized hoodie to avoid seeming too baggy. For a more professional look, roll up your sleeves. For a fashionable touch, complete the look with chic sneakers or chunky dad shoes. This outfit is ideal for a relaxed day at the park, weekend trips, or informal events.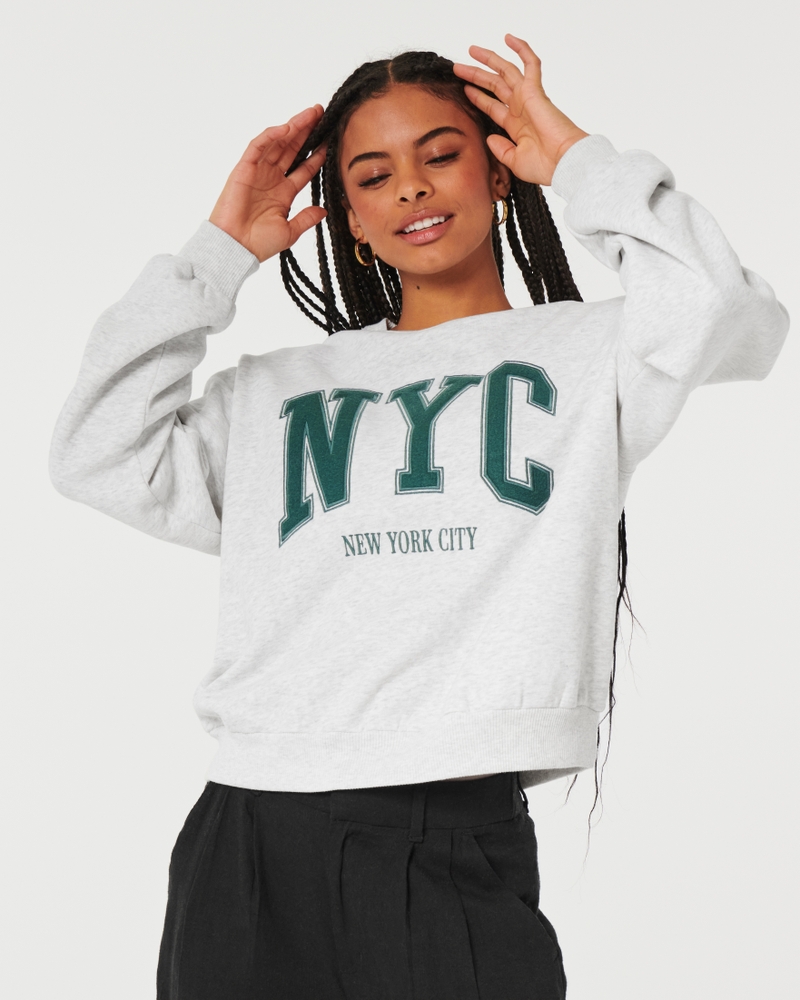 OVERSIZED NEW YORK CITY GRAPHIC CREW SWEATSHIRT
(Shop at https://www.hollisterco.com/)
Effortlessly Feminine: Crop Top and High-Waisted Cargo Pants
Wear your cargo pants with a crop top to adopt a more fashionable and feminine image. Choose a crop top that exposes a tiny portion of your midriff and sits just over the waistline of your cargo pants.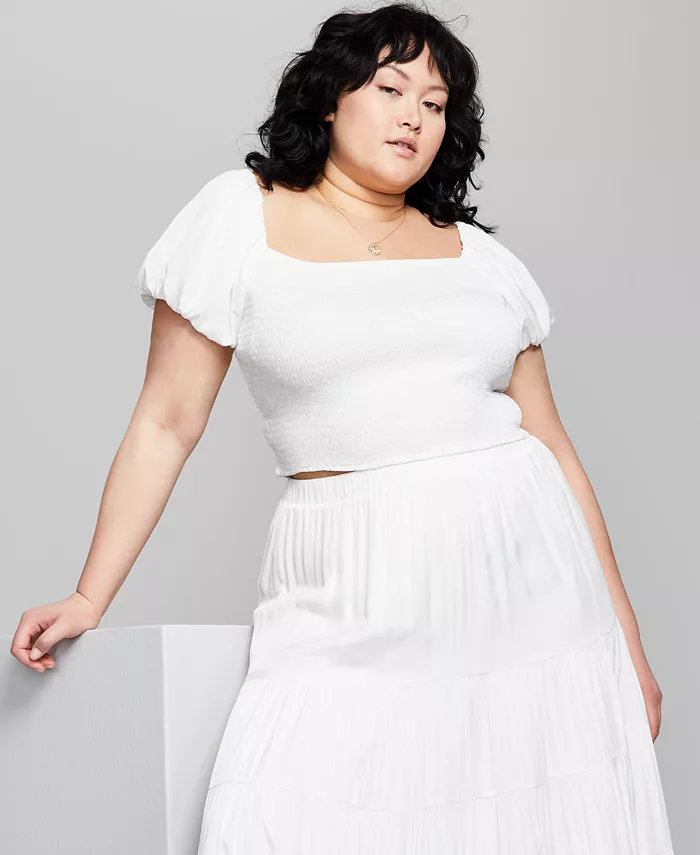 Plus Size Square-Neck Puff-Sleeve Top
(Shop at https://www.macys.com/)
o give the outfit visual interest, use a crop top with a cute design or a bold color. Cargo pants with a high waist lengthen your legs and enhance your figure. For a touch of class, add block-heeled mules or sandals to the ensemble. To complete your look, accessorize with delicate jewelry and a crossbody bag. This look is ideal for hanging out at the beach, attending laid-back summer events, or going shopping with friends.
Street Fashion: Effortlessly Cute with Graphic Tees
Opt for a cute and playful graphic tee to add a touch of personality to your outfit. Pick a shirt that features your favorite band's or movie's logo, a cute saying, or a fun print. For a laid-back yet fashionable style, tuck it inside your cargo pants.
This is a fun way to show your quirky personality and be creative with casual tops.
Women's Jesus Is My Lift Ticket V-Neck Tee
(Shop at https://solidthreads.com/)
Edgy Chic: Combat Boots for All-Day Comfort
Combat boots are an adaptable type of footwear that can give any outfit a tough edge. Embrace contrasts by wearing combat boots with feminine pieces, or go casually elegant with cargo pants. You can firmly embrace your individual combat boot style by using this advice.
SAM EDELMAN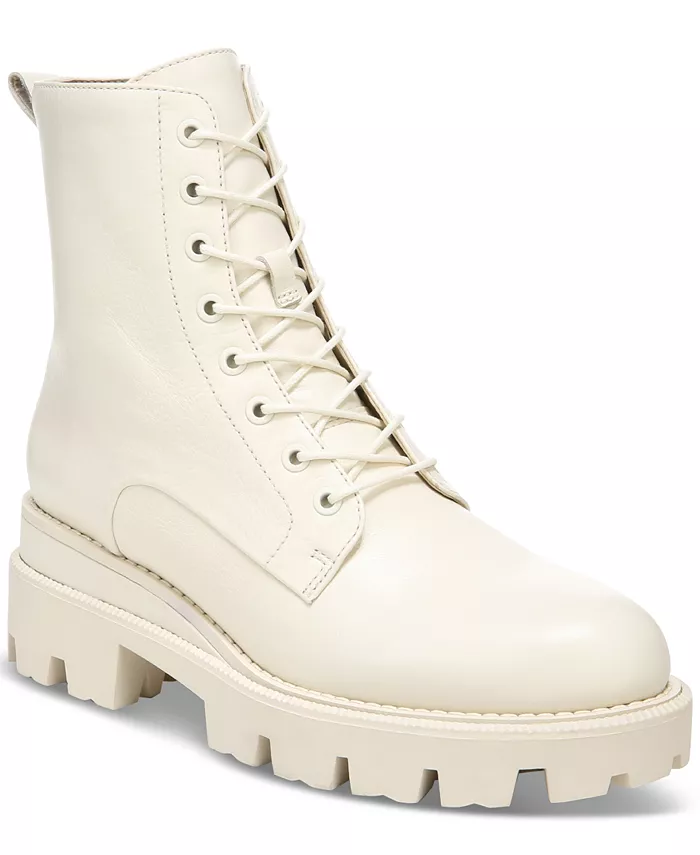 Women's Garret Lace-Up Lug-Sole Combat Boots
(Shop at https://www.macys.com/)
Wearing combat boots will unleash your edgy and fun style. This is an easy way to look casual yet very put-together. This style of
Boots are also very comfortable making it an easy choice for all-day wear.
Cargo pants may dress up casual looks because they are not only practical but also fashionable and adaptable. You can put cargo pants as the focal point of ensembles by using these suggestions and experimenting with various combinations. Enjoy dressing up easily and comfortably with cool and printed cargo pants that will bring out your fashion creativity.
Cargo trousers offer countless options for expressing your individual style while providing comfort, whether you like a basic t-shirt pairing, a toasty knit combination, a denim duo, a sporty hoodie fusion, or a feminine crop top combo. Therefore, enjoy crafting casual ensembles that are both fashionable and practical while embracing the adaptability of cargo pants.